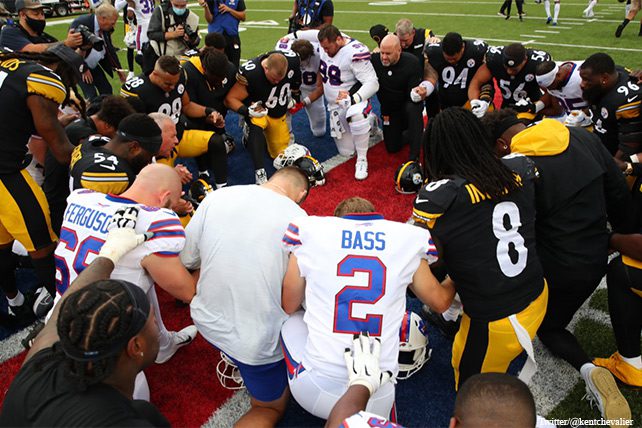 After Pittsburgh notched its first victory of the 2021 NFL season on Sunday, team chaplain Kent Chevalier tweeted a photo of players kneeling midfield. But the group of Steelers, joined by members of the opposing team, the Buffalo Bills, weren't protesting anything. Instead they were praying together, and Chevalier added the hashtag #DeflectTheGlory.
Comments on social media were overwhelmingly positive. "Now that's what knees are for," writes one person. Another notes, "The only reason you should take a knee is to honor our Heavenly Father." On the Western Journal website, Jack Davis expresses relief that the tweeted photo wasn't "just one more snippet of the social justice shenanigans that have become a hallmark of the NFL."
Those comments refer to players in numerous sports who have kneeled during the national anthem, protesting police brutality against black Americans.
Chaplain Urges Steelers to Play for God, Not Themselves
Chevalier, who served as a pastor for more than two decades before joining the Steelers staff, says prayer permeates the team environment, both on and off the field. Before games, uniformed players are often "holding hands in the shower" area to pray, a visual the chaplain says he never could have imagined.
While talking with players, Chevalier encourages them to focus on spiritual obedience, not on scores or individual accolades. He reminds the Steelers "they are playing for God's glory, not for the name on the back of their jerseys," according to an interview with Steelers Takeaways.
As a chaplain, Chevalier says he's there "to love and serve," not to "push my faith on you" or to "be a Bible thumper." Instead, he strives to help players "use their platform to share their faith."
Related article: Pittsburgh Steelers QB Wants to Be a Better Christian Than Athlete
Much of Chevalier's ministry with the team occurs during private, one-on-one times that he describes as "Nicodemus moments." Referring to Jesus' nighttime encounter with a Pharisee in John 3, the chaplain says that just as Nicodemus didn't want anyone to know he was talking to Jesus," some players "don't want to be seen with me." So he often receives "late-night texts or calls asking to meet me at night to talk about things," and "that's where most of my ministry is done."
The Love and Support Go Both Ways
When Chevalier's brother died from COVID-19 complications last November, he discovered that the love he feels for the Steelers is mutual. Grief left him "too messed up to even lead chapel" for a while, so tight end Vance McDonald filled in.
McDonald, who has since retired, tells Sports Spectrum that even though Chevalier had been the team chaplain for just two years at that point, he'd already "done amazing things for each of us individually" and helped form a "strong brotherhood of Christians on this team." Chevalier says the outpouring of love and support was humbling—and reinforced the feeling that the Steelers are a family.
Related article: 12 NFL Players Who LOVE Jesus (and Football)
After his brother died, Chevalier posted a video saying, "I grieve with hope." The chaplain admits having lots of questions for God but says he thinks God is okay with—and not afraid of—our questions. He encourages people who are struggling with grief to reach out and to accept other people's acts of ministry.
"It's okay to not be okay," says Chevalier. "It's okay to ask for help. I've been seeking out Godly counsel and [have] great brothers around me. But there's some stuff I'm realizing that's being unearthed by this grief that they really can help me with."