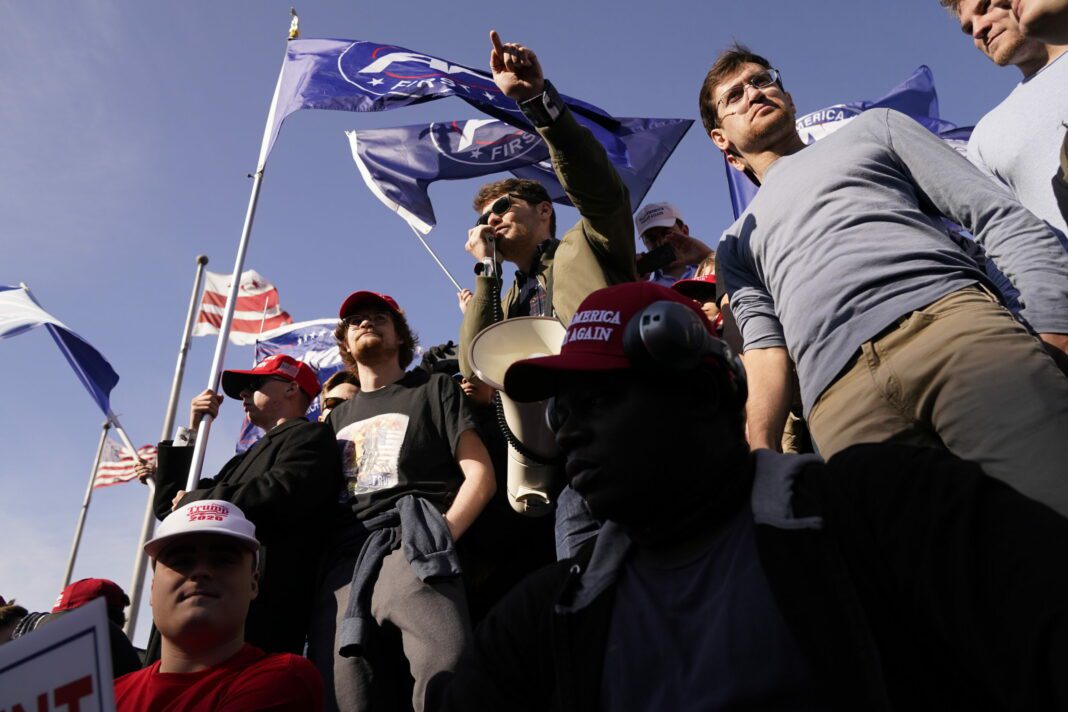 This article is the fifth in a series on Christian nationalism supported by the Pulitzer Center.
(RNS) — When supporters of former President Donald Trump rallied near the White House on Jan. 6 of last year, a boisterous pocket of young men waving "America First" flags broke into a chant: "Christ is King!" It was one of the first indications that Christian nationalism would be a theme of the Capitol attack later that day, where insurrectionists prayed and waved banners that read "Proud American Christian."
It also announced the presence of followers of Nick Fuentes, a 23-year-old white nationalist and former YouTube personality who was subpoenaed this month by the U.S. House of Representatives committee investigating the Capitol attack. (Though a person holding a flag reading "America First" — Fuentes' personal brand — was among the first to barrel into the Senate chamber during the insurrection, there is no evidence Fuentes entered the Capitol himself.)
"Christ is King" is not controversial in itself: The phrase is rooted in Christian Scripture and tradition. But Fuentes' supporters have given it a different connotation. They have chanted it at anti-vaccine protests and the anti-abortion March for Life, some of them holding crucifixes aloft. It was heard in March, at an America First conference, where Fuentes delivered a speech saying America will cease to be America "if it loses its white demographic core and if it loses its faith in Jesus Christ." Fuentes also declared the country "a Christian nation."
The religious fervor of Fuentes' followers is part of an unsettling resurgence of faith-based appeals among right-wing extremists in the aftermath of the insurrection. With so many ideological strands animating the far-right — including racism, antisemitism, and fervent nationalism — a shared affinity for Christian nationalism has come to serve as a unifying element, scholars of extremism say.
And as Christian nationalism's presence grows, experts are concerned it could expand extremism's influence over other, more moderate conservative politicians and groups.
"Christian nationalism — and even the idea of separatism, with a subtext of white, Christian and conservative-leaning — took a more dominant role in the way that extremist groups talk to each other and try to propagandize in public," said Jared Holt, who studies extremism at the Atlantic Council's Digital Forensic Research Lab.
Christian nationalism has a deep history in America's racist right-wing, said Kelly J. Baker, author of "Gospel According to the Klan: The KKK's Appeal to Protestant America, 1915-1930." Fuentes' rhetoric "could have come word for word from a Klan speech in 1922," she said. "The Klan's goal here was patriotism and nationalism, but it was combined with their focus on white Christianity."
Intermingling patriotism and piety has become common even among groups better known for nationalist violence than adherence to a particular faith. The Proud Boys, a chauvinist organization whose members trampled and burned Black Lives Matter banners at Washington, D.C., churches a year ago, were spotted praying together the morning of the insurrection.
A month earlier, "Rufio Panman" — aka, Ethan Nordean, currently facing federal charges stemming from Jan. 6 — compared Jesus' crucifixion to "sacrificing ourselves for our country," at an impromptu Proud Boys rally near the Washington Monument, according to footage provided to Religion News Service by independent journalist Dakota Santiago.
Nordean and other Proud Boys knelt as another man prayed into a bullhorn, warning that anti-fascist activists known as antifa were "coming" for their children, freedom, culture, country and Constitution.