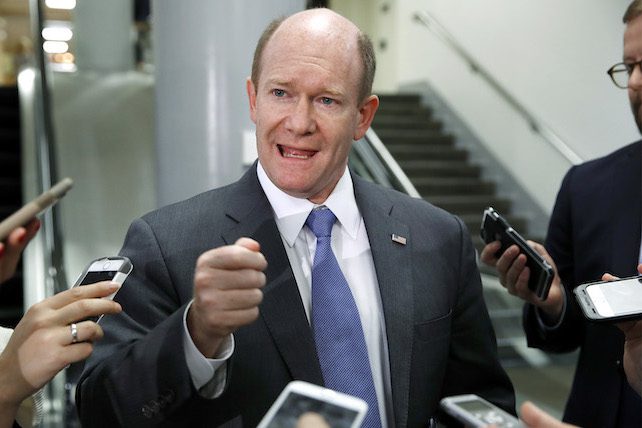 WASHINGTON (RNS) — Sen. Chris Coons of Delaware, an organizer of the National Prayer Breakfast scheduled to take place on Thursday (Feb. 3), believes this year's iteration will be a "positive reset" for the controversial event and feature speeches from President Joe Biden and Vice President Kamala Harris.
Speaking to Religion News Service by phone on Wednesday, Coons said the gathering — which typically draws a sprawling crowd of guests from all over the world — will be limited this time to members of Congress, speakers and spouses. In addition to readings from Senate majority and minority leaders, it will feature a keynote address from Bryan Stevenson, a lawyer, founder of the Equal Justice Initiative and author of the book "Just Mercy."
"I think this year is a positive reset that allows us to focus on the original mission of the prayer breakfast, which was a much narrower engagement between Congress, the President, and some inspirational singers and speakers," said Coons, a Democrat.
Coons said the reduction in size is partly due to restrictions related to COVID-19. But it's also an effort by organizers to "refocus the event on being principally about the president, Congress, a few prayers and readings and an inspiring keynote," he said.
RELATED: Biden, former presidents urge Americans to forgive and unite at National Prayer Breakfast
The shift comes after years of controversy surrounding the National Prayer Breakfast, an annual event that dates back to President Dwight D. Eisenhower. In 2018, the Department of Justice revealed it was charging Maria Butina, a Russian national, with "conspiracy to act as an agent of the Russian Federation" — a charge rooted partly in allegations that she attempted to exploit the National Prayer Breakfast. Two years later, then-President Donald Trump sparked criticism when he used his National Prayer Breakfast speech to vent about his recent impeachment, flashing a newspaper with the headline of his acquittal and suggesting House Speaker Nancy Pelosi was lying when she said she prays for him.
Coons, a Presbyterian, took over as Democratic co-chair for the event from Tim Kaine when the Virginia senator campaigned as former Secretary of State Hillary Clinton's running mate in 2016. Kaine reportedly hasn't been back to the event since that year, telling the liberal-leaning outlet The Young Turks in December that he has "no intention" of returning in 2022.
Coons, a regular at a weekly bipartisan prayer breakfast in Congress, said he is "well aware of some of the controversy surrounding past breakfasts." But he has remained involved with the event in hopes it can "contribute to our national dialogue in a more purposeful and focused way." He has served for years as part of the event's bipartisan leadership team; Sens. Kirsten Gillibrand of New York and Mike Rounds of South Dakota are this year's co-chairs, with Coons operating as an "honorary host committee member."
Coons also personally confronted Trump at the 2017 National Prayer Breakfast, explaining to the then-president why his faith compelled him to oppose a highly controversial travel ban that disproportionately impacted Muslims.
RELATED: In polarized Washington, a Democrat anchors bipartisan friendships in faith
The 2021 prayer breakfast, which was convened virtually due to the pandemic, appeared to strike a different tone than in past years: It included an address from Biden and a video featuring former Presidents Barack Obama, George W. Bush, Bill Clinton and Jimmy Carter calling for unity and forgiveness. Trump did not appear in the video.