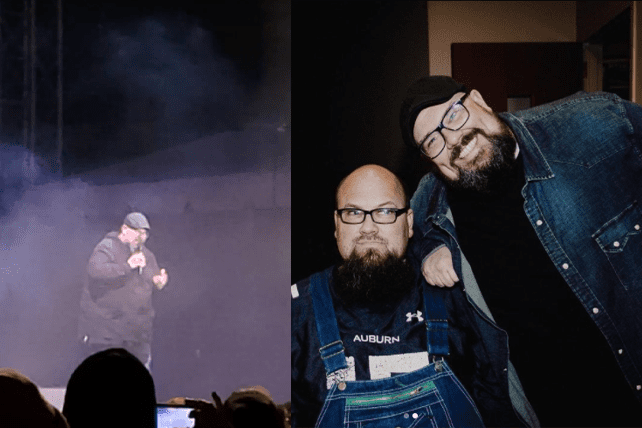 An emotional Big Daddy Weave performed over the weekend at the "Rock the Universe" Christian music festival in Orlando, Florida. The concert was the first the band had played since the death of Jay Weaver, founding member of the Dove Award winning Christian band and brother to the group's lead vocalist, Mike Weaver.
Last month, Jay Weaver passed away at the age of 42 due to complications related to COVID-19. He had been admitted to the hospital about a week earlier, during which time family and fans alike prayed for his recovery. 
On January 2, Mike Weaver announced via Instagram that Jay had passed, saying, "You have walked with him through a huge fight. I'm so sorry to bring this news, but I'm also excited to celebrate where he is right now—my brother Jay went to be with Jesus just a couple hours ago due to complications with COVID-19 on top of everything else that he already had going on." 
Diabetes was a pre-existing condition for Jay, which he had battled with for two decades. In 2016, both of his feet were amputated as a life saving measure. As his condition worsened in the summer of 2020, Jay stopped performing with the band to seek treatment.
RELATED: Christian Band Big Daddy Weave's Bassist Jay Weaver Dies After Contracting COVID-19
During their performance in Orlando, Mike Weaver paused to reflect on the significance of that night's performance, both for the band and for him personally. In a video captured by The Christian Post, it appears that the band had experienced some unexpected technical challenges during the show, which Weaver used as a lead-in to an emotional address.
"I've been really scared about this show, actually," Weaver said, and some in the audience offered cheers of support. "This is the first show that we have played this year, but the first show, specifically, since my brother, Jay, who played bass with us for 23 years, went to Heaven to be with Jesus. He had this really long health battle, and we just saw Jesus carry him through so much."
"And a lot of that was because of people just like you, praying for him," Weaver continued. "I'm telling you, man, there is such a power when the church comes together, and we're not against each other but we're for the Kingdom."
"We were just singing that song 'My Story,'" Weaver went on to say. "And, man, I'm telling you the story of Jay's life continues to just blow us away—how Jesus had used him in the lives of people. And it wasn't by some, you know, like he was some Olympic medalist of something, you know what I mean? It was through him just getting through every day."
"And in the midst of a great amount of pain, God was just shining through him so brightly," Weaver said. "It was pretty incredible."
RELATED: LGBTQ Artist Semler Joining Christian Band Relient K's Upcoming Tour