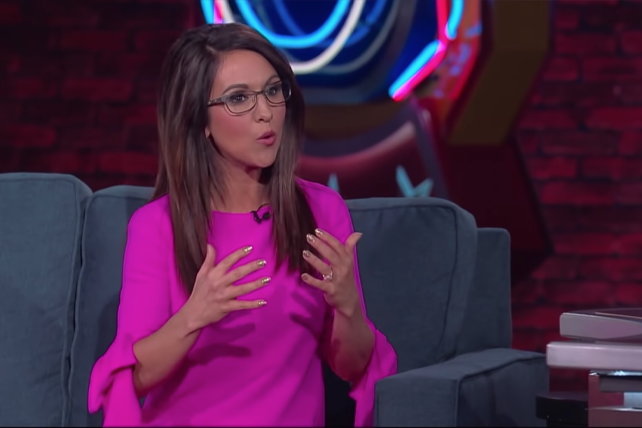 United States Congressional Representative for Colorado Lauren Boebert was a recent guest on Trinity Broadcasting Network's "Huckabee," an appearance wherein she compared her public persona to that of Jesus Christ. 
"It is exciting to be in the most MAGA part of Tennessee, apparently," said Boebert to crowd applause after being welcomed to the show by host and former Arkansas governor Mike Huckabee. 
"Absolutely," Hucakbee agreed. "You know, I have felt for you, because it's like there's a target on your back. There's just a lot of people in Washington that don't seem to like you very much." 
Boebert has been the center of a number of controversies since taking office in 2021. Late last year, Boebert came under fire for anti-muslim remarks aimed at fellow congresswoman Ilhan Omar and has often referred to Omar and her progressive allies in Congress as "the Jihad Squad." Some called upon Congress to censure Boebert, but no official action was taken. 
RELATED: Lauren Boebert in Call Refuses to Apologize for Anti-Muslim Remarks
Boebert has also expressed sympathy with the QAnon movement, which centers on unsubstantiated far-right political conspiracy theories. 
"Well, Governor, I am radically me. And authenticity is something that is completely foreign in Washington, D.C.," Boebert said. "So I understand the attacks, because they don't always get people to Washington, D.C. who do what they said they were going to do."
"I don't let these attacks bother me. I sleep well at night, because I know they aren't after me, personally. They are after everything that we love as a country. They are after our Constitution. They are after the people in your audience," Boebert continued as the crowd applauded. "And I am there to get in their way." 
When asked why she chose to run for Congress, Boebert said, "Frustration is what led me here. I was very frustrated at all of these people who would say something to get elected, and then as soon as we sent them to where they asked us to serve, they would turn. And they would lose their principles. And they would overtax and overspend and over-regulate and destroy everything that we were working so hard to build at home."
"And so, I believe that as a Christian, that frustration that we feel on the inside of us sometimes is really just God's motivation to send us to where we need to be a part of the solution," Boebert went on to say. "And it led me here."
RELATED: 'The Passion of the Christ' Actor Jim Caviezel Speaks at QAnon Conference, Quotes Braveheart