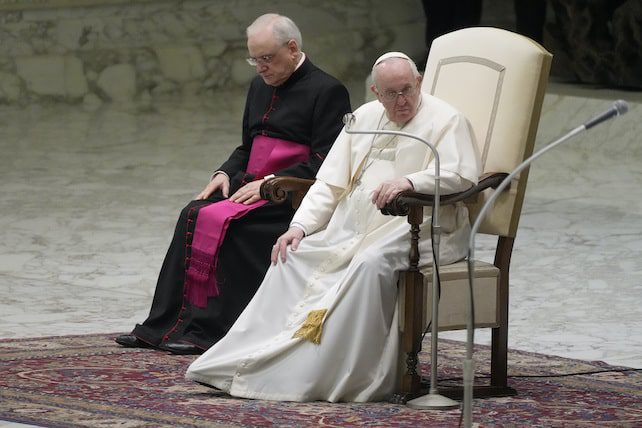 ROME (AP) — Pope Francis is planning to visit Congo and South Sudan in July, fulfilling a wish to minister to the faithful in the African countries that have sizeable Catholic populations and long histories of conflict. The Archbishop of Canterbury will join him for the South Sudan leg in the latest ecumenical effort to solidify peace in the young country, officials said Thursday.
Francis is scheduled to visit the Congolese capital, Kinshasa, and the eastern city of Goma on July 2-5, and plans to be in Juba, South Sudan, from July 5-7, the Vatican said.
The trip would be one of Francis' longest in years and his third to sub-Saharan Africa. He visited Kenya, Uganda and the Central African Republic in 2015, and Mozambique, Mauritius and Madagascar in 2019. Francis also visited Egypt in 2017 and Morocco two years later.
The trip will certainly test the 85-year-old pontiff's stamina and mobility. He had 33 centimeters (13 inches) of his large intestine removed and spent 10 days in the hospital last July. This week, the pope canceled two events because of acute pain in his knee that makes walking and standing painful. The Vatican said his doctors had prescribed rest.
The only other foreign trip the Vatican has confirmed for this year is an April 2-3 visit to Malta.
Francis has wanted to visit South Sudan for years, but security concerns have always prevented him from going, including for a planned joint visit with the Archbishop of Canterbury. A spokesman for Archbishop Justin Welby told The Associated Press on Thursday: "I can confirm that the Archbishop of Canterbury will join the pope in South Sudan." Also expected is the moderator of the Church of Scotland, Rev. Jim Wallace, to represent the main Christian faith groups in the country.
In 2019, the pope invited South Sudan's rival leaders to the Vatican for an Easter summit, stunning onlookers when he knelt down and kissed their feet in a humble plea for peace.
One Juba resident, Garang Deng, said the pope's visit should renew the political will of South Sudan President Salva Kiir, who is Catholic, and his longtime rival Riek Machar.
The pope's visit will bring new energy to the search for peace, the Rev. Samuel Abe with the Catholic archdiocese of Juba told The Associated Press on Thursday.
"We are very happy and excited. Such a visit is unusual," he said. "So we expect blessings from him."
South Sudan, which has existed as a nation for just over a decade after winning independence from Sudan, could use them. International impatience has been rising with the government's slow implementation of a 2018 peace deal ending a five-year civil war, including the crucial work of merging and deploying the once-rival armed forces. An estimated 400,000 people were killed in the civil war, and hundreds still die in intercommunal violence around the country.