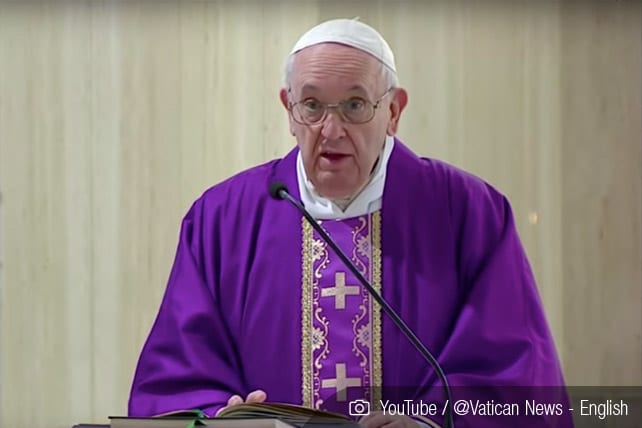 In a Mass that was livestreamed on March 20, Pope Francis said that Catholics who are unable to make an individual confession to a priest because of the global pandemic can instead confess sins directly to God without an intermediary.
"Do what the Catechism (of the Catholic Church) says," said Francis, according to online newspaper Crux. "It is very clear: If you cannot find a priest to confess to, speak directly with God, your father, and tell him the truth. Say, 'Lord, I did this, this, this. Forgive me,' and ask for pardon with all your heart."
The pope did emphasize the importance of going to confession as soon as there is an opportunity. People should tell God, "'I will go to confession afterward, but forgive me now,'" said Francis, "and immediately you will return to a state of grace with God."
Francis was apparently basing his words about how to confess sins on the Catechism of the Catholic Church N. 1452, which states: 

When it arises from a love by which God is loved above all else, contrition is called 'perfect' – contrition of charity. Such contrition remits venial sins; it also obtains forgiveness of mortal sins if it includes the firm resolution to have recourse to sacramental confession as soon as possible.
The Need to Confess Sins During a Pandemic
The pope offered his guidance to people who cannot see a priest because they are under quarantine or lockdown due to Covid-19. In his address he said, "Many people today would tell me, 'Father, where can I find a priest, a confessor, because I can't leave the house? And I want to make peace with the Lord, I want him to embrace me, I want the Father's embrace.'" 
But there is no need to wait for the pandemic to end in order to confess sins and make peace with God. "Return to your father who is waiting for you," said Francis. "The God of tenderness will heal us; he will heal us of the many, many wounds of life and the many ugly things we have done. Each of us has our own!"
Italy has implemented a nationwide lockdown since March 10, which the nation's army is now enforcing. However, according to Crux, a person can still go to confession as long as the priest is wearing a mask and is over three feet away from the penitent. Authorities are nevertheless encouraging people to remain at home. 
The pope began the Mass by praying for the doctors in Italy, which has seen the worst impact of the virus compared to any other country in Europe. As of this writing, Italy is second only to China in regard to the number of people who have contracted the illness, with 63,927 confirmed cases. A reported 6,077 people in Italy have died as a result of the virus, and 7,432 have recovered. 
Healthcare workers in Italy are totally overwhelmed by the extent of the outbreak and are getting sick themselves. Reuters reports that at one hospital in Milan, 25 out of 90 doctors have contracted the virus and about a fifth of the hospital staff have tested positive for it. One doctor who came out of retirement to help said, "We are at the end of our strength."