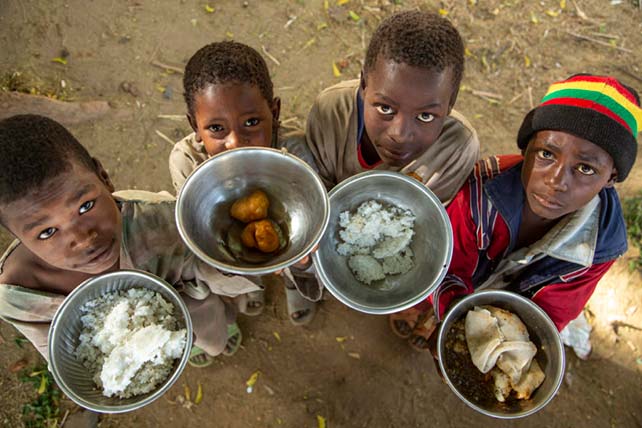 BALTIMORE, Md. (BP) – At least 97 million more people have fallen into extreme poverty globally since the COVID-19 pandemic began two years ago, World Relief said in a study released March 15 on the second anniversary of the declaration of the pandemic.
Setbacks during the COVID-19 pandemic have reversed about three or four years of progress in the fight against global hunger, with the worst outcomes seen in the poorest countries and among women and children, World Relief said in its report.
"COVID-19 has hit the world's most vulnerable … in ways that are really ferocious and in a level of devastation that we've not seen in our lifetime," World Relief President and CEO Myal Greene said in releasing the report. "As a report the pandemic has resulted in one of the greatest humanitarian issues in recorded history.
"It's the first time in my lifetime, really, that we've seen a rise globally in the number of people living in extreme poverty. So this is really a devastating and heartbreaking issue that we face."
World Relief compiled its report using data and findings from various sources including the United Nations, the World Health Organization and other groups. No numbers specific to the U.S. are included in the report.
RELATED: Christian Band Big Daddy Weave's Bassist Jay Weaver Dies After Contracting COVID-19
"Pockets of the United States have experienced tremendous pain and setbacks because of COVID-19. As we have seen in both the United States and abroad, those living in vulnerability have suffered significantly from the social and economic consequences of the pandemic," Greene said. "In this report, it's our desire to share that story with people in western countries about how our global neighbors have suffered during the pandemic."
At least 265 million people are facing "acute food insecurity" globally, with numbers increasing in at least 20 African countries, World Relief said. Direst outcomes were seen in Gabon, South Sudan, Ethiopia, Malawi, Uganda, Zambia, Mali and Madagascar.
Southern Baptists' compassion ministry, Send Relief, has seen similar effects from the pandemic, a Send Relief spokesperson told Baptist Press, including an escalation in food security and health issues.
In the last two years, Send Relief has participated in 593 ministry projects, served 1.5 million people, saw 5,259 churches serve their communities and provided more than 2 million meals.
"Not only across North America but around the world, we have seen the devastating impacts of COVID on families and communities," said Send Relief President Bryant Wright. "Send Relief's response has been focused on ensuring people in need have enough food and basic resources to get them through the crisis. The needs have been great, but it has been encouraging to see how churches and individual Christians have worked together with us to help serve the many people who have been struggling, feeling isolated and without hope."
World Relief referenced UNICEF's finding that the pandemic created the biggest crisis for children in UNICEF's 75-year history. Also noted was The Lancet Report's finding that the number of children orphaned due to COVID-19 related deaths rose to 5.2 million in a seven-month period ending Oct. 31, 2021, increasing the number of orphans by 90 percent worldwide.
RELATED: Franklin Graham Doesn't Believe COVID-19 Vaccine Passport Microchip Is the Mark of the Beast
Women suffered more poverty and domestic abuse.