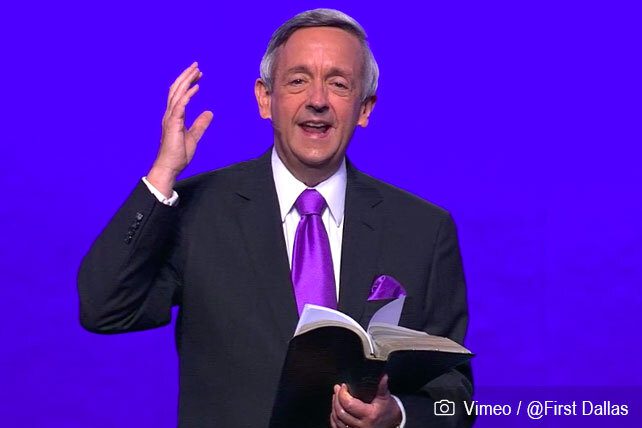 Back in May, when COVID-19 vaccines became widely available to the American public, Pastor Robert Jeffress hailed them as "the best way for churches to fully open." Now Jeffress, pastor of First Baptist Church in Dallas, says there's "no credible religious argument against" being vaccinated against the coronavirus.
In an emailed statement to the Associated Press last week, Jeffress, a supporter of former President Donald Trump, joined other religious leaders in downplaying any arguments for religious exemptions to COVID vaccine mandates. The First Baptist staff, says Jeffress, is "neither offering nor encouraging members to seek religious exemptions from the vaccine mandates."
RELATED: NIH Director Dr. Francis Collins on COVID, Vaccines, and Getting Back to Church
Pastor Robert Jeffress: Pro-Life Argument Falls Flat
People who object to the use of fetal cell lines being used in the vaccine-testing process must be "consistent" in their pro-life beliefs, Jeffress says. "Christians who are troubled by the use of a fetal cell line for the testing of the vaccines would also have to abstain from the use of Tylenol, Pepto Bismol, Ibuprofen, and other products that used the same cell line if they are sincere in their objection."
The fetal cell lines have been developed and used in labs for decades, and researchers say the cell line now in use contains no fetal tissue. For Catholics, Pope Francis has said receiving the COVID vaccine is not only morally acceptable but a moral obligation.
Jeffress, 65, says, "If we are intent on protecting life inside the womb, which I am, we need to also be careful to value life outside the womb and do everything we can to preserve it. And I think, certainly, the controlling passage for me in Philippians 2 is 'Do not merely look out for your own personal interest,' Paul said, 'But also look out for the interest of others. Have this attitude in yourself, which was in Christ Jesus, who gave himself and was crucified for our sin payment.'"
The pastor continues, "I think that's something that the evangelical community needs to be reminded of. It's not just about me; it's about us. And if we're really Christians, we need to think about the well-being of those we come in contact with spiritually and physically as well."
Consider the Odds, Says Robert Jeffress
First Baptist in Dallas, a 12,000-member Southern Baptist congregation, hosted a COVID vaccine clinic in May. At the time, Jeffress encouraged people to "get your doctor's advice…but don't use untruth as a reason for not taking the vaccine."