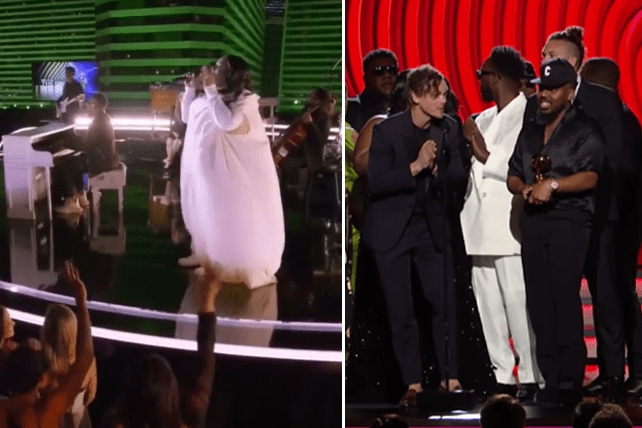 Sunday was an historic evening for Maverick City Music, as they not only won their first Grammy Award for Best Contemporary Christian Music Album but also became the first Christian or Gospel group in 20 years to perform during the live broadcast of the awards ceremony.
The group performed "Jireh" during the live broadcast, a worship song written and recorded in collaboration with Elevation Worship about resting in the promises of God. 
"FAM! It brings us so much joy to share that we're taking the stage for the first time at the @RecordingAcad #GRAMMYs this Sunday," the group said on Twitter last week. "All the glory and praise goes to Jireh!"
RELATED: Creators of Logos Bible Software Release Data Revealing Top Worship Song for 2021
Maverick City Music en los #GRAMMYs pic.twitter.com/7Vzqf7gck0

— esteban (@EstebanLanzani) April 4, 2022
While fans were excited to see the group perform on one of music's biggest nights, some expressed disappointment that the broadcast cut to commercial in the middle of the song. 
"The Grammy's cut out a performance by Elevation Worship and Maverick City Music," tweeted one fan. "Pretty disappointed that Christian artists get axed." Nevertheless, others took the fact that Maverick City Music got to perform live on television at all as a victory, with another fan tweeting, "Maverick city music took us to church!"
In addition to performing at the awards show, Maverick City Music also received a Grammy alongside Elevation Worship in the category of Best Contemporary Christian Music Album for "Old Church Basement," an album released jointly by the two groups in April of 2021. 
Speaking on behalf of Maverick City Music, Chandler Moore said, "We just want to thank God. Maverick City was a space created by our founders Tony Brown and JJ—Jonathan Jay—for those who are marginalized, unheard, rejected in this space to be heard and to have a space."
"All of us on this stage represent that," Moore said, motioning to the rest of the members of Maverick City Music and turning over the mic to Elevation Worship's Chris Brown. 
RELATED: Pruitt Preaches the Gospel, Promotes Who's Your One? During Winter Jam
"Hey, I just want to say that I will never forget that little basement where this beautifully wild season between our…two groups began," Brown said. "And this has been the most amazing thing watching our two ministries create something together that we could have never created separately."
Listen to "Jireh" by Elevation Worship and Maverick City Music below.