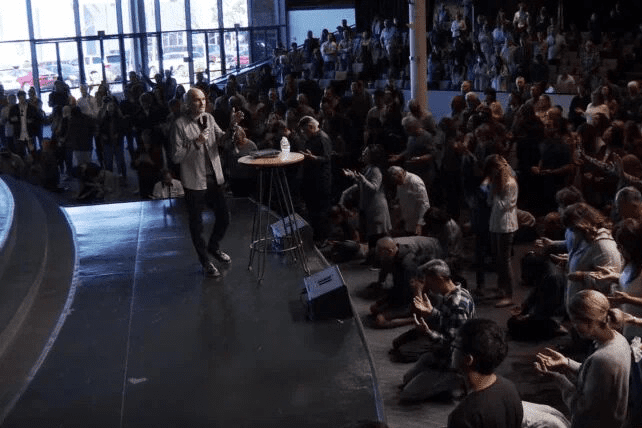 (RNS) — When Dave King heard his Anaheim, California, church was about to call Alan Scott to be its pastor in 2018, he was thrilled.
King, who had long been part of the Vineyard movement of churches, known for their charismatic practices and popular worship music, had met Scott and his wife, Kathryn, while visiting their home country of Scotland and had been impressed.
The Scotts, King felt, were the kind of leaders Vineyard Anaheim needed. A onetime booming congregation under John Wimber, a legendary Vineyard leader who died in 1997, the Southern California church had struggled in recent decades and needed a shot in the arm.
Alan Scott, King felt, could help turn the church around.
"The truth was, no one pushed harder for the Scotts than me and my wife," said King. "I thought he was my friend."
Things went well at first. The Scotts settled in and began attracting new people to the church, located just 10 miles from Disneyland. Then COVID-19 hit, shutting down in-person worship services. During the pandemic, the Anaheim church's board of directors turned over. Most of the people who had been there before the Scotts were gone, replaced by friends and allies of the pastor and his wife.
In an early February dinner meeting with Vineyard USA leaders, the Scotts made a surprise announcement. God had spoken to them, and Vineyard Anaheim would cut ties with the national movement.
"As per our conversation tonight, we are writing to formally notify you of our decision to withdraw Vineyard Anaheim as a member of the Association of Vineyard Churches USA with immediate effect," they wrote in a letter dated Feb. 24.
According to an account of the dinner, distributed to Vineyard USA leaders, the Scotts gave few specifics about their decision to leave, saying mostly that God had told them to do it. They did, however, mention King twice, complaining about a small group gathering King had been leading in his backyard during COVID-19.
The disassociation letter was met with shock, dismay and dozens of questions — along with frantic efforts by national Vineyard leaders to try to head off Vineyard Anaheim's departure, or at least to slow it down to give the movement time to get used to the idea.
Those efforts failed.
Though Alan Scott would eventually apologize for "missteps" in how the decision to leave was communicated — he and his wife, backed by the church's board of directors, did not back down or change their minds.