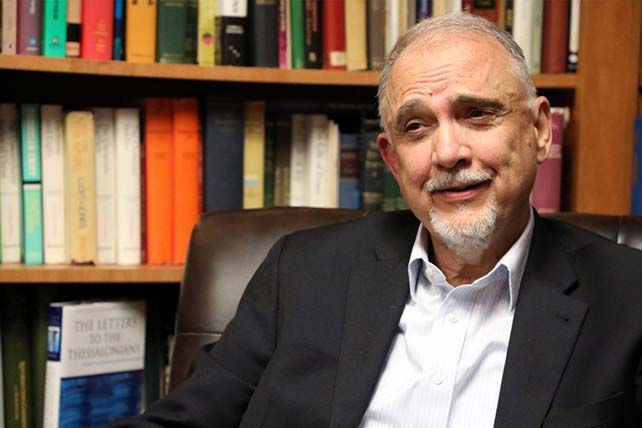 EDITOR'S NOTE: Baptist Press will be releasing in-depth interviews with each of the known candidates to be nominated as SBC president at the Annual Meeting in Anaheim. We plan to release our interview with Tom Ascol on May 2, Bart Barber on May 3, and Robin Hadaway on May 4. The interviews have been edited only for clarity, grammar and length.
CAPE CORAL, Fla. (BP) – For more than 30 years Tom Ascol has been known as a leader with deep theological convictions through his work at Grace Baptist Church and Founders Ministries. While Ascol, 65, has never held an office as a trustee or board member of the Southern Baptist Convention, he has been an influencer, and his name is one of the most well-known in Southern Baptist life.
"You'd have to ask the people who didn't ask me," Ascol joked when asked why he's never served as an entity trustee or SBC committee member. "It's never something I aspired to. I've always had plenty to do."
But Ascol's name has been put forward by a number of people to be nominated as president of the SBC in Anaheim this summer.
Over the last few years as debates over issues such as Critical Race Theory, the work of the Ethics & Religious Liberty Commission, and claims of liberal drift have permeated the SBC, and Ascol's voice has been prominent—sometimes preeminent—in every discussion.
We sat down with Ascol in his pastoral study to get to know him, ask him about his ministry and hear his views on issues being discussed in the SBC.
Why are you willing to be nominated to be president of the SBC?
I've had people ask me for years, you know, why don't you do this? Would you do this? And my standard answer has been "I'd rather be beaten with a bag of pennies than to do that" or, "I thought you were my friend, I thought you liked me."
So, I've never aspired to it. It's never been anything on my to-do list or something that I thought would be really good to shoot for. But over the last two or three years, those requests have been more serious. People have actually sat down and talked to me and made arguments that you know, became increasingly convincing. I've wanted to see things done differently in our SBC the last several years and have been pretty vocal about that.
RELATED: Southern Baptists, CBN Steering Council Members Nominate Tom Ascol and Voddie Baucham for Vital SBC Leadership Roles

And so the folks began to say, "Well, look, you're saying we need a change. We need to reevaluate. Why would you not be willing to step into a role where—if you were elected—you could begin a process of some redirection?"
So, I talked to my wife, and she was surprisingly open to it. We'd been as serious before, but we'd always said "no." But when she was open to it and then I mentioned it to the elders, they were initially opposed to it.
We've got a lot of good things going on and there are problems in the church right now. Most of our problems are because of blessings which you know is great. If you can choose that you don't always get to choose it but they are problems and they just require lots of attention.
So, our elders have tried to make sure we're shepherding well through the midst of that. And they didn't think it was the right idea, but we agreed to take a week to pray about it. Some of us prayed and fasted and came back and one by one, every one of them flipped without having talked to the others.
So, with my wife's willingness and the elders saying, "Yeah, we think this is a right thing. Even in the midst of everything else, we'll restructure." It's forced us to think through some things.
So, all that came together, and I said, "Okay, I'm willing." I just told the guys that had been seriously asking me to consider that I would be willing to do it.
I love the SBC, and I think we've got so many good things going, but I think we've got some serious problems and those problems are largely subterranean. So, it's easy to not look at them or notice them, but if we don't deal with them, my fear is that five, 10 years from now, we're going to be looking back saying, "Man, I wish we'd have thought about some of these things."