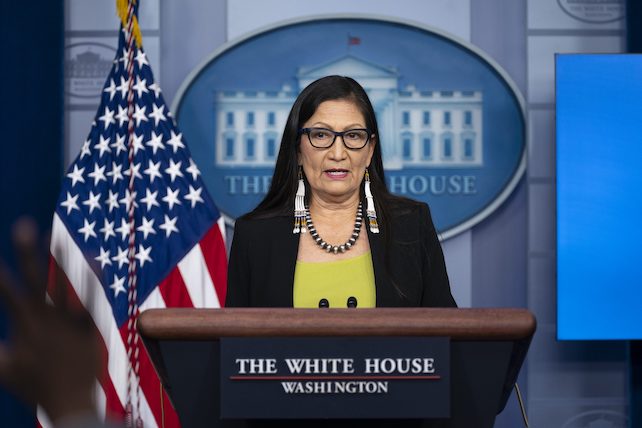 (RNS) — The United States operated 408 boarding schools for Indigenous children across 37 states or then-territories between 1819 and 1969 — half of them likely supported by religious institutions.
That's according to the first volume of an investigative report into the country's Indian boarding school system that was released Wednesday (May 11) by the U.S. Department of the Interior.
"Our initial investigation results show that approximately 50% of federal Indian boarding schools may have received support or involvement from religious institutions or organizations, including funding, infrastructure and personnel," Assistant Secretary for Indian Affairs Bryan Newland said at a news conference on the progress of the department's Federal Indian Boarding School Initiative.
The report revealed nearly 40 more schools than the National Native American Boarding School Healing Coalition previously had identified in the U.S. — and nearly three times more than the number of schools documented in Canada's residential school system by that country's Truth and Reconciliation Commission.
It also recorded the deaths of more than 500 children and identified marked or unmarked burial sites at more than 50 schools across the Indian boarding school system. The department expects those numbers to go up as it continues to investigate.
The findings also compiled previous reports describing an "unprecedented delegation of power by the Federal Government to church bodies."
RELATED: On day of remembrance, churches confront their role in Indigenous boarding schools
The Federal Indian Boarding School Initiative was announced last summer by Interior Secretary Deb Haaland to investigate the history and lasting consequences of the schools. That announcement came as Indigenous groups across Canada confirmed the remains of more than 1,000 Indigenous children buried near former residential schools for Indigenous children there.
The Department of the Interior was "uniquely positioned" to undertake such an initiative, according to the report released Wednesday, because it had been responsible for operating or overseeing the boarding schools.
From 1819 through the 1960s, the U.S. implemented policies establishing and supporting Indian boarding schools across the nation. The report includes the first-ever inventory of those federally operated schools, including profiles and maps of each school.
The boarding schools supported a "twin United States policy" to culturally assimilate Native American, Alaska Native and Native Hawaiian children and to seize Indigenous land, according to Newland, a citizen of the Bay Mills Indian Community (Ojibwe).