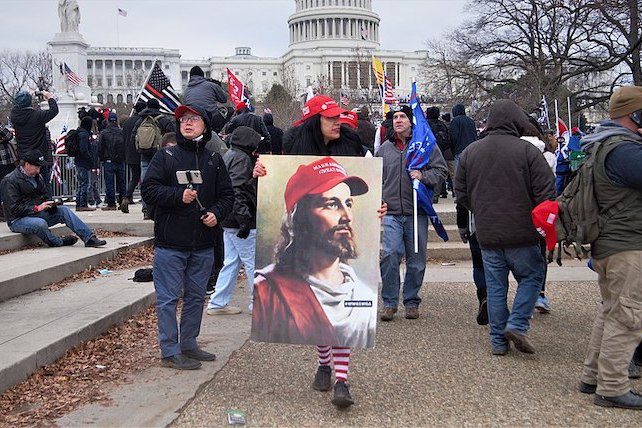 WASHINGTON (RNS) — On June 1, 2020, then-President Donald Trump marched across Lafayette Square outside the White House, trailed by an anxious-looking team of advisers and military aides. The group shuffled past detritus left by racial justice protesters after a frantic mass expulsion executed by police minutes prior with clubs, pepper balls and tear gas.
The dignitaries stopped in front of St. John's Church, where presidents, including Trump, have traditionally attended services on their Inauguration Day. St. John's, which had suffered a minor fire the day before, was closed. But Trump took up a position in front of its sign and turned toward the cameras, a Bible held aloft.
"We have the greatest country in the world," Trump said. In the distance, sirens wailed.
Washington's Episcopal bishop, whose diocese includes St. John's, condemned Trump's stunt, saying it left her "horrified." But White House chief of staff Mark Meadows declared he was "never prouder" of the president than in that moment, calling it a rejection of "the degradation of our heritage or the burning of churches." Trump's evangelical Christian advisers were similarly effusive, lauding the photo op as "important" and "absolutely correct."
In retrospect, the "symbolic" message of Trump's Bible photo op, as he termed it, operates as a bookend to the Christian nationalism on display at the attack on the U.S. Capitol seven months later. It communicated, however histrionically, that the president was leading an existential fight against politically liberal foes calling for a racial reckoning, but at the center of which was an attack on Christian faith. From that moment on, Christian nationalism — in the broadest sense, a belief that Christianity is integral to America as a nation and should remain as such — provided a theological framework for the effort to deny Democrats the White House.
As Trump's poll numbers dipped the same month as the photo op, his campaign redoubled efforts to stir up support among his conservative Christian supporters. Then-Vice President Mike Pence embarked on a "Faith in America" tour, while Trump conducted interviews with conservative Christian outlets and held rallies at white evangelical churches.
RELATED: For insurrectionists, a violent faith brewed from nationalism, conspiracies and Jesus
Referring to "American patriots," Trump told rallygoers at Dream City Church in Phoenix: "We don't back down from left-wing bullies. And the only authority we worship is our God."
In August at the Republican National Convention, Trump described early American heroes as people who "knew that our country is blessed by God and has a special purpose in this world." Pence, in his speech, adapted Christian Scripture by swapping out references to Jesus with patriotic platitudes.
Despite then-candidate Joe Biden's public discussion of his Catholic faith, and the overt religiosity of the Democratic National Convention, Donald Trump Jr. told the GOP crowd that "People of faith are under attack" in the United States, pointing to restrictions on large gatherings due to the COVID-19 pandemic.
Yet it was Trump's religious supporters who did the attacking the final night of the RNC. After leaving the convention's fireworks-filled celebration at the White House, conservative Christian commentator and Trump loyalist Eric Metaxas was filmed punching an anti-Trump protester off his bike and fleeing into the night, only admitting to the assault days later in an email to Religion Unplugged.