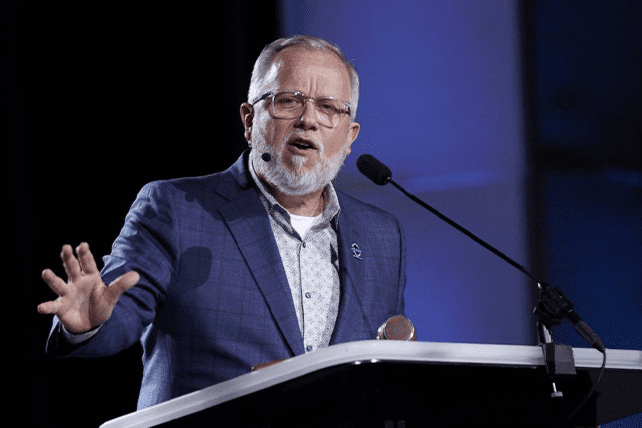 ANAHEIM, Calif. (BP) – Southern Baptist Convention President Ed Litton calls it a "gut punch" – Jesus' reference to his disciples as an "unbelieving and perverse generation."
Jesus had two questions for disciples in the Matthew 17 passage, which Litton posed in his June 14 address as if Jesus were speaking directly to Southern Baptists.
"Southern Baptists how long shall I stay with you? Southern Baptists, how long shall I put up with you?"
"How we respond to Jesus in these two days together, especially on the most painful, gut-punching reality of the Sexual Abuse Task Force (SATF) report, how we respond is not just to the looking world that's watching us, but how we respond because Jesus is watching us," Litton said. "I think if we respond in a way that seeks to honor and glorify Him first and foremost, listen to me, we will wind up answering Jesus' two questions."
Litton, senior pastor of Redemption Church in Saraland, Ala., followed his supposition with a plea.
"Lord Jesus, we need you. We need you to be the center of it all. We need you in this moment. Pass us not, oh blessed Savior," Litton petitioned. "Lord come. Come to our meeting. Take over our hearts. Rule and reign in us, Lord God. And let us be careful how we treat one another; this is our credibility to a lost world."
Matthew 9:35-38 was Litton's main text, exegeted to show Jesus' compassion for those in need and His vision that not only allowed Him to see the hurting, but allowed the hurting to know they were seen.
"We can't say we are the greatest mission-sending agency in the world when we have a heart that lacks His compassion and a vision that lacks His vision for the world," Litton said. "In all of our debating, let us have the mark of people who love one another even when we don't see eye to eye on everything, for the glory of God and the advancement of the Gospel."
Litton emphasized Jesus' call to pray that for workers to reach the harvest of lost souls and encouraged Southern Baptists to put aside any pride that might hinder such prayers.
"Our greatest resource as Southern Baptists is not our brain power. It is not our resources. It's not our ingenuity. It's not our creativity," Litton said. "It's John 15:7: 'If you remain in Me and My words abide in you, you will ask whatever you want and it will be done.'
"We need God. God does not need us," Litton said. "The question is will we repent of the idolatry of power. Will we love the least of these? Will we allow others' pain to get into our souls to feel compassion for them? Will we let our gut punch of suffering in this moment transform us?
"This is a gut punch. It's also a gut check."