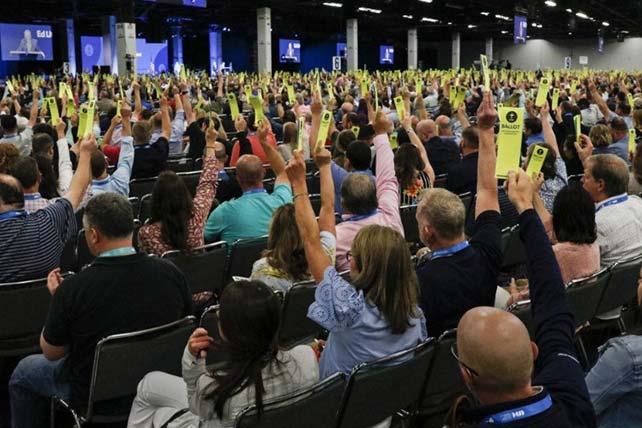 ANAHEIM, Calif. (BP) – Southern Baptist messengers took a strong stand against sexual abuse in Southern Baptist churches on June 13-14 at the 2022 SBC Annual Meeting. It was the first time in more than 25 years that California hosted the annual meeting.
The recommendations of the Sexual Abuse Task Force were passed by messengers after a drama-filled year surrounding the independent investigation of the SBC Executive Committee for the alleged mishandling of sexual abuse allegations.
One recommendation calls for newly elected SBC President Bart Barber to appoint members of an Abuse Reform Implementation Task Force who will begin to create policies and practices for preventing and responding to abuse in Southern Baptist churches.
RELATED: SBC Apologizes to Sexual Abuse Survivors, Reaffirms Pro-Life Beliefs in Resolutions Adopted at Annual Meeting
The convention was filled with close elections as the elections for president, second vice president and recording secretary were forced into run-offs.
The meetings drew 8,133 messengers, according to SBC Registration Secretary Don Currence. There were 2,856 registered guests and 1,554 registered exhibitors leading to a total attendance of 12,543.
Barber elected SBC president, Yeats completes 25 years of service
Messengers elected Texas pastor Bart Barber as the next president of the SBC. Barber and Florida pastor Tom Ascol met in a run-off election after they received more votes than Frank Cox and Robin Hadaway in the initial election.
California pastor Victor Chayasirisobhon was elected first vice president, and Alex Sands was elected second vice president.
Nathan Finn, provost of North Greenville University, was elected recording secretary. Longtime Recording Secretary John Yeats chose not to run for reelection after 25 years of serving in the role for the convention.
Sexual abuse reforms bring lamentation, repentance
A Convention-wide awakening to the impact of sexual abuse and need to address it brought a seminal moment for Southern Baptists in adopting recommendations brought forward by the Sexual Abuse Task Force. Those recommendations include the formation of a "Ministry Check" website and the establishment of an Abuse Reform Implementation Task Force to work over the next three years.
Messengers also adopted Resolution 6: On Lament and Repentance for Sexual Abuse. In citing Scripture that condemns abuse and charges the church to care the vulnerable, the resolution included public apologies and repentance from Southern Baptists to survivors of sexual abuse.
Crossover yields 547 salvations
Thirty-four churches engaged their communities on June 11 through Crossover in a partnership with Send Relief's hosting a Serve Tour experience in advance of the annual meeting. Local churches, the Orange County Southern Baptist Association, the California Southern Baptist Convention and the North American Mission Board combined efforts in a series of sports camps, block parties and other outreach events.
RELATED: Motions at Annual Meeting Range From Addressing Sexual Abuse Reforms to Entity Responsibilities
In its report June 14, NAMB said 572 volunteers served more than 2,400 children and their families with 547 people surrendering their lives to Christ.