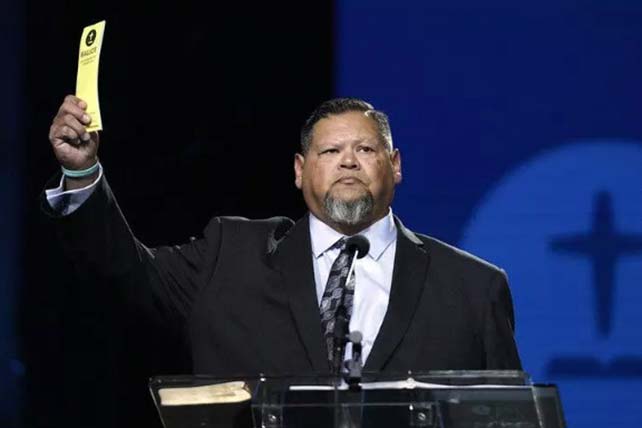 ANADARKO, Okla. (BP) – Mike Keahbone, pastor of First Baptist Church Lawton, Okla., not only played a crucial role in drafting a resolution decrying the forced conversion of Native peoples, but he has already begun to use the resolution as a way to minister to survivors.
Keahbone, a Native American with heritage from the Comanche, Kiowa and Cherokee tribes, served on this year's SBC Resolutions Committee and helped write the resolution titled, "On Religious Liberty, Forced Conversion, and the Federal Indian Boarding School Initiative Investigative Report," which was adopted by SBC messengers in June.
July 9, Keahbone read the resolution from the platform at a "Road to Healing" tour event sponsored by the U.S. Department of the Interior in conjunction with the Federal Indian Boarding School Initiative. Secretary of the Interior Deb Haaland, who attended the event, is the first Indigenous person to serve in a presidential cabinet position.
The tour, a response to a recently released federal report documenting the forced assimilation and conversion of Native Americans, Alaska Natives and Native Hawaiians in the U.S. between 1819 and 1969, kicked off at Riverside Indian School in Anadarko, Okla., which, according to media reports, is believed to be the oldest boarding school in Okla., opening in 1871.
RELATED: SBC Apologizes to Sexual Abuse Survivors, Reaffirms Pro-Life Beliefs in Resolutions Adopted at Annual Meeting
Keahbone said around 75 percent of the boarding schools mentioned in the federal report were located in Okla., which is why he, an Oklahoma pastor, felt led to attend the Road to Healing event, an opportunity for past victims of mistreatment in the boarding schools to tell their stories in an open-mic time.
The accounts shared at the event included one from a survivor who recalled being checked in and immediately taken to a church and forced to ask God for forgiveness for being Native American.
Keahbone said he didn't even realize any of the survivors of the abuse were still living and described what he heard as "soul-crushing but very healing."
"The powerful thing in that moment was I got to stand up and share this resolution and to say that Southern Baptists, the largest Protestant denomination in the country, is standing with Native peoples," he said. "The language in the resolution was so powerful in saying we stand against these things that hurt you, and we stand for the things that will help you.
"We're the first denomination that I know to recognize this report and say, 'We love you, we're on your side, and we're praying for you.' I could see it in people's faces, and I had a few people come talk to me about it after the event."
RELATED: Justin and Lindsey Holcomb: How Pastors Can Stay in Their Lanes While Helping Survivors of Abuse
For Keahbone, the report and the stories are personal. His great uncle, a Comanche tribe member named Perry Noyobad, lived in one of the boarding schools and was subjected to abuse such as punishment for speaking his native language.
Noyobad would later use that same language as a World War II code talker, helping the Allies communicate messages without fear of interception.
Keahbone said when his uncle was asked why he would serve his country in this way, he would say he was not fighting for what America was at the time, but for what he believed America could be.
The federal report released in May is Volume 1 of a full investigation carried out by the Bureau of Indian Affairs within the Department of the Interior. Titled "Federal Indian Boarding School Initiative Investigative Report," the report said Native peoples were specifically targeted with these efforts of forced conversion and assimilation in order to systematically remove them from their native lands.