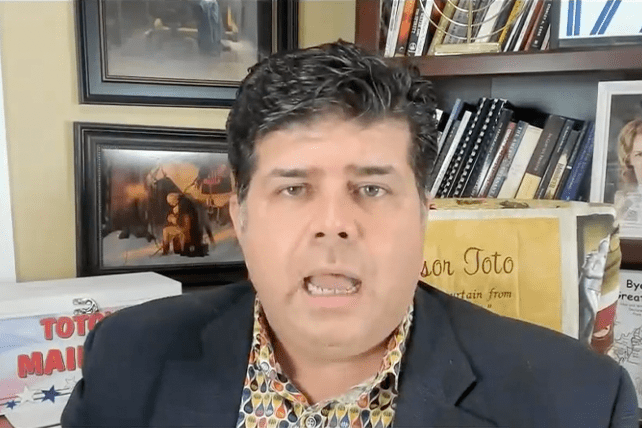 Mississippi pastor Shane Vaughn has predicted that former president Donald Trump will gain control of the government following the midterm elections, wherein many are expecting the Republican Party to regain a majority in the House of Representatives. 
Vaughn is the pastor of First Harvest Church in Waveland, Mississippi. In addition to his pastoral duties, Vaughn broadcasts a weekly web show wherein he refers to himself as "Professor Toto," the leader of a "Conservative College." He refers to his viewers as "Toto's Army." 
The web show is simulcasted on Rumble and Facebook. The show was also previously streamed on YouTube, but Vaughn has been suspended by the platform for violating community guidelines.  
In a recent episode of the web show, Vaughn, who throughout the course of the show referred to the United States House Select Committee on the January 6 Attack as a "witch trial" and a Democrat majority in Congress as "darkness," predicted that former president Donald Trump would "take back over the government" four months from now, running his base of operations out of his Mar-a-Lago resort in ​​Palm Beach, Florida.
RELATED: Conservative Commentator Jordan Peterson's 'Completely Presumptuous' Message to the Church
January, which is four months away, is when newly elected or re-elected members of Congress will be sworn in. 
"No, I didn't say he goes back into the White House. I said he takes back over the government, because you can believe your bottom dollar [that] the House and the Senate will be taking their orders, if you will, from Mar-a-Lago—their direction from Mar-a-Lago," Vaughn clarified. "It is from there that we will have two presidents operating the country."
"You'll have the fake president, which is Joe-Bama. Obama is president number one," Vaughn said, alluding to a prevalent conspiracy theory that former president Barack Obama is secretly controlling the Biden Administration. "And then Trump is president number two. One of those presidents lives in the White House. One lives in the other White House." 
"It's an amazing thing," Vaughn remarked. "America has two mistresses, if you will. Interesting times we're living in to be for sure." 
"So anyway, we need to be prepared for the end of a long, dark night. It's coming. It's right around the bend. And that's when the Obama administration comes to a screeching halt," Vaughn continued. "They will have no more power in government, because they don't have the purse string, and they will not have the Senate. So it's a great day that's almost here. Four more months and we will be back in the control of the conservative party."
Later in the show, Vaughn expressed his belief that Donald Trump would still be president had it not been for the COVID-19 pandemic, which Vaughn referred to as the "plandemic," denoting his belief in a conspiracy theory that the COVID-19 crisis was fabricated by leftist elites for social and political control.  
Vaughn made headlines last year when he claimed in a sermon that the pandemic would not end until Christians stopped wearing masks and placed their faith in God rather than vaccines.