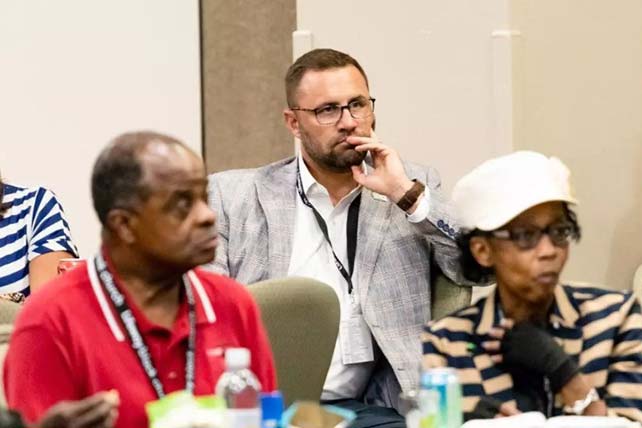 RIDGECREST, N.C. (BP) – African American churches are more important to the Southern Baptist Convention than ever before, Jamie Dew told Baptist Press Monday (July 18) at the Black Church Leadership and Family Conference at Ridgecrest Conference Center.
Dew, president of New Orleans Baptist Theological Seminary, said he's primarily focused on building relationships and trust among friends at the conference and letting pastors know NOBTS is available to help.
"These are my friends. I believe in what they're doing. African American churches are important to the SBC, more so now than ever before," Dew said in the interview during the pastors and wives reception hosted by the National African American Fellowship of the Southern Baptist Convention. "There's more work that's got to be done. There's more help that's got to be given. There's more conversations that need to be had, and you don't get to do any of that by sitting it out."
RELATED: Excavation of Graves Begins at Site of Colonial Black Church
Dew is among several denominational leaders attending the event, including Baptist State Convention of North Carolina Executive Director Todd Unzicker and SBC Executive Committee Interim President and CEO Willie McLaurin.
Dew, who has led NOBTS since 2019, said he has been building deeper relationships with NAAF leaders during his tenure as president.
"I started I guess about a year and a half ago, having really just important and fruitful conversations with a lot of the NAAF leaders," Dew said. "This was right after all of the George Floyd, the riots, all the national debate about CRT, and ended up in some really helpful, fruitful conversations, really from both sides, and I think in that, just a friendship was formed between several of us.
"I think that Southern Baptists are in a much healthier place than most people would think they are on racial issues" he said. "… I am confident that if we can have the conversations we need to have, I think that's going to do a lot of good for a lot of people. … [T]here's still more work that has to be done to be where we need to be."
RELATED: Barna: Black Churches Offer Comfort, Sense of Empowerment
Dew, whose family is also attending the conference, is teaching one of dozens of small-group classes available to attendees. His two-part class, offered July 19 and 20, is God and the Problem of Evil. NOBTS is also hosting a luncheon for conference attendees.
Unzicker and McLaurin greeted conference attendees on the opening night of the event from the stage of Spilman Auditorium.
"Brothers and sisters, welcome to the great state of North Carolina. We are glad that you are here," Unzicker said. He described the work of North Carolina Baptists as a movement of churches, "because God is on the move.
"Ever since Genesis 3 and all the way to Revelation, when someone from every nation, every tribe, every tongue, every people is around the throne saying, 'Worthy is the Lamb who was slain to receive power and honor and riches and might and glory forever and ever, Amen,'" Unzicker said, "God is on the move to rescue His people."