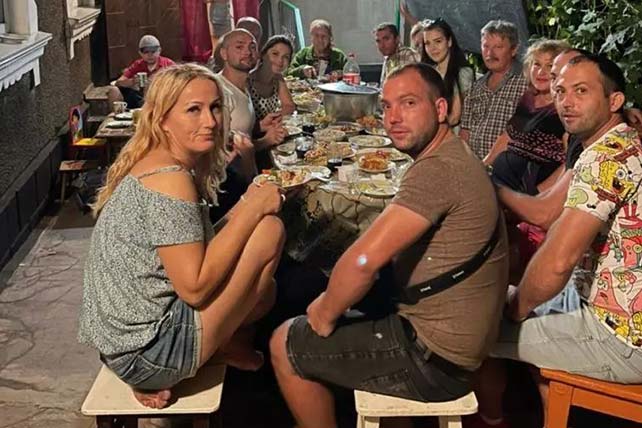 LAWRENCEVILLE, Ga. (BP) – Olha Soroka, 85, walks through the rooms of her home. She smells the roses from her garden and can hear the laughter from family dinners. She touches and kisses the walls, the ones that witnessed the years of raising children with her husband.
Then she wakes up, and the tears return.
Soroka and her daughter, Svitlana, arrived in Atlanta on June 15 and have since found community at The Lighthouse Church, a Russian-speaking Southern Baptist congregation in Lawrenceville, Ga. The road to get there, though, required much prayer and help from others to escape the siege of their hometown, the Ukrainian port city of Mariupol, after it was besieged by occupying Russian forces.
RELATED: After 43 Days, Ohio Pastor Hears From Daughter Missing in Ukraine
"Half of our church is Ukrainian and the other half from other areas of the former Soviet Union," said Pastor Max Lisovskiy, whose family's Baptist beliefs had placed them under the eye of authorities going back decades. Lisovskiy says it led to his grandfather's murder in 1937 by the KGB and, ultimately, to his family's leaving Russia in 2006 as President Vladimir Putin's power continued to grow.
"We began receiving refugees in April," he said. "We hear their stories, pray for them and support them however we can."
While other headlines may have pushed the war in Ukraine away from many Americans' attention, it's an inescapable daily discussion point in Lisovskiy's church.
Soroka and her husband, Volodymyr, moved to Mariupol in 1959, where he found work as a steel worker. They raised two children, a boy and a girl, in the home they built on the edge of the city.
RELATED: Evangelical Seminary Dean Found Dead on Streets of Ukraine
"It was a simple city," said Soroka, whose husband died many years ago. "Over the last 10-15 years, it grew into a wonderful, modern European city. It was beautiful and people wanted to live here."
"I remember the happiness," said her daughter, Svitlana Kuznetsova, 55. "It was my hometown and our house was the center of it. Leaving there was like leaving my heart and soul."
Soon after Russia invaded Ukraine in February, it became apparent that Mariupol was one of its prime targets.
As the bombing drew closer and neighborhoods with no apparent military significance nevertheless became targets, Svitlana insisted her mother and other relatives move to her eighth-floor apartment in the middle of the city. The original plan was to wait three days until things got safer, but that grew into weeks.
The decision to leave saved their lives. Word came that a bomb had destroyed their neighborhood, including the house. Soroka wouldn't believe it until seeing for herself.