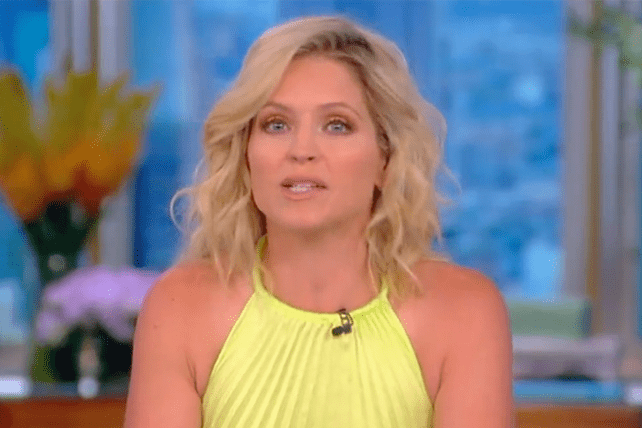 "The View" has issued an on-air apology to Turning Point USA for comments they made earlier this week regarding white supremacist protesters outside the conservative nonprofit's Student Action Summit in Tampa, Florida. 
The apology came after Turning Point USA sent ABC News a cease and desist letter, threatening legal action of "The View" failed to issue a retraction and apology for insinuating a connection between Turning Point USA and the neo-Nazi demonstrators outside their conference for students.
"The false statements of fact intentionally made during The View's July 25th segment were unquestionably harmful to TPUSA's reputation and brought the organization and its student affiliates into disrepute with the public, potential donors, and current and future business partners, posing a significant financial loss to the organization," the letter said.
In that July 25 episode, "The View" hosts Whoopi Goldberg, Joy Behar, Sarah Haines, and Ana Navarro discussed the group of white supremacist demonstrators, who waved Nazi flags and held up antisemitic imagery, also passing out antisemitic literature that falsely accused Jewish people of being behind abortions.
RELATED: 'Americans Kneel to God and God Alone': Trump Addresses Students With Message About Fighting 'Tyrants'

The group had no connection with the Student Action Summit or its organizers, as a Turning Point USA spokesperson had previously clarified. Nevertheless, Behar felt that the speakers at the event were complicit in the protesters' antisemitism for not having spoken against it. 
Speakers at the event included Turning Point USA founder Charlie Kirk, Fox News personality Laura Ingraham, Congresswoman Lauren Boebert, Senator Josh Hawley, Senator Ted Cruz, Donald Trump, Jr., Florida Governor Ron DeSantis, former president Donald Trump, and Congresswoman Marjorie Taylor Greene, who advocated for the Republican Party to become "a party for nationalism"—more specifically, Christian nationalism.
In the discussion about the protesters, Behar was specific in her criticism of DeSantis. 
RELATED: 'We Should Be Christian Nationalists': Rep. Marjorie Taylor Greene Casts Her Vision for the GOP
"DeSantis did not say anything about it. Nothing. So it's sort of his rendition of a 'good people on both sides,'" Behar said, according to Decider.