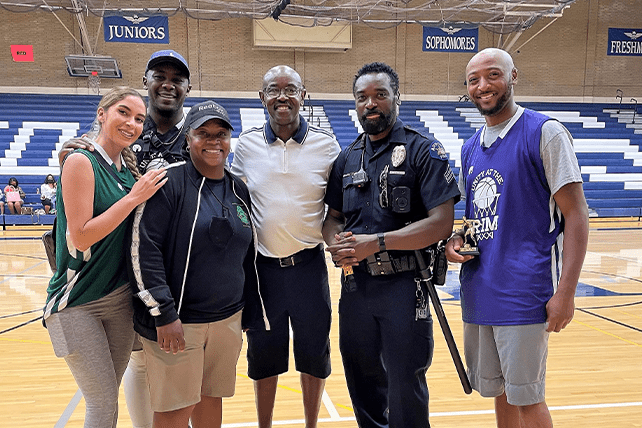 DENVER (BP) – White pastor Mark Spence understands the challenges Black drivers face caused by what many call "driving while black," or DWB. In advance of the Unity at the Rim basketball event to build bridges between first responders and diverse youth, Spence relates an experience of about 20 years ago.
"I was in the car with a friend who was pulled over, 'cause he was driving my nice car, and he was African American and he was doing nothing wrong. So I've had that experience, being in the passenger seat while he got pulled over for DWB," said Spence, senior pastor of Mississippi Avenue Baptist Church in Aurora. "But at the same time, I've never had to worry about it, and these other pastors have.
"Guys who love the Lord, who are good citizens. There's no sense of any wrongdoing, and yet they've had bad experiences before with police, or with first responders."
Lee Hall, an African American and senior pastor of Grace Christian Center in Denver, and Spence are Southern Baptist pastors who have worked to build cross cultural bridges in the Denver metroplex since tragedies including the 2019 death of Elijah McClain after a police encounter, and the 2020 police murder of George Floyd.
When communities were marching to protest the deaths of McClain and Floyd, Hall and Spence corralled a denominationally and ethnically diverse group of pastors to address racial profiling by first responders, hoping to build bridges and improve relations between Denver metroplex first responders and youth.
Unity at the Rim, a July 30 co-ed basketball tournament and rap session between first responders and youth, is a result of their work in its second year, Hall said. Pastors from Missionary Baptist, Church of God in Christ, Assemblies of God and nondenominational congregations are active in the outreach.
"We thought that the best way to reach the community was to reach it through our young people. They're more open. And at the same time, we've seen the police come out to the community and our youth take off running," Hall said. "That's not a good thing to see.
"We want them to not only be comfortable around police, but at the same time, we want the police to begin to recruit our young people to become police officers in the future as well. We thought it best to bring them together, play together … to begin a dialogue."
More than 110 youth and 25 first responders had registered for Unity at the Rim through July 27, Hall said, including about half a dozen firefighters.
Denver Police Department Community Relations Officer LaTrisha Guss, who has recruited about 10 departmental officers to participate, expressed appreciation for the pastors' work in building community relationships.
"We definitely love our houses of worship. They're the same community members that we're trying to address and fellowship with and communicate with and build those bridges with," Guss said. "The fact that Pastor Lee Hall was excited about allowing us to partner with him and be able to build that relationship is phenomenal. We also participate in other functions with houses of worship, such as the Faith & Blue."
Such work is more important now than ever, Guss said.