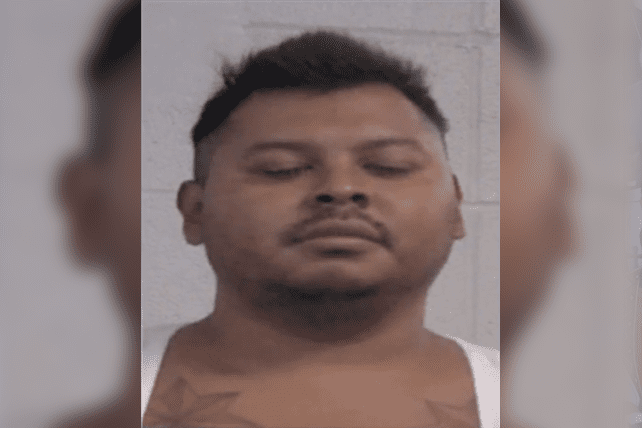 Oscar Vasquez, 27, has been arrested and charged after stabbing a woman in the parking lot of Southeast Christian Church's southwest campus in Louisville, Kentucky, on Tuesday. 
After receiving a call around 1:20 p.m. on Tuesday, police reviewed surveillance footage, which showed Vasquez brandish a knife and approach the woman from behind, grabbing her and stabbing her. Vasquez could then be seen fleeing the scene, running west. 
According to court documents, the victim suffered stab wounds to her back, as well as a punctured lung and cuts on her chin and neck. She told police that she did not know who Vasquez was. 
Police were able to identify Vasquez after reviewing the GPS information on an electronic monitor assigned to him for a home incarceration program, which placed him at the scene of the crime. Vasquez had been placed under home incarceration after a July 16 arrest and criminal mischief charge.
RELATED: Uber Driver Charged With Murder of Beloved Houston Pastor After Road Rage Shooting
In that arrest, a report revealed that Vasquez was caught on video throwing a wooden pallet through the window of a vehicle. 
A police K-9 found the knife Vasquez used in the assault. 
Detective Charlie Roberts told WLKY that police were able to find and arrest Vasquez quickly due to the help of Southeast Christian Church staff members and witnesses. 
"We're thankful that some witnesses in the community stood by and were able to provide us with some firsthand accounts of what they witnessed and we were able to relay some of that information to our police K-9 unit," Roberts said.
Vasquez has been charged with attempted murder and first-degree assault. He is currently being held in Louisville Metro Corrections.
RELATED: Dayton-Area Pastor Struck and Killed by Vehicle Mourned by Community
Vasquez, who is being represented by a public defender, pleaded not guilty on Wednesday (August 3), and his bond has been set at $1 million. He is due to appear in court on August 11.