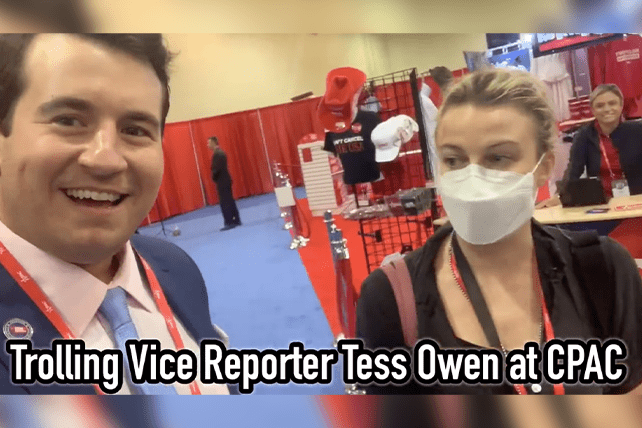 A number of Christian leaders are expressing outrage at a viral video captured at the Conservative Political Action Convention (CPAC) over the weekend, wherein BlazeTV contributor Alex Stein can be seen harassing senior reporter for Vice News Tess Owen, drawing a crowd of convention attendees who heckled Owen.
CPAC took place in Dallas, Texas, from August 4 to 7. The event's speakers included former president Donald Trump, political commentators Sean Hannity and Glenn Beck, political strategist Steve Bannon, Senator Ted Cruz, Representatives Lauren Boebert, Marjorie Taylor Greene, and Matt Gaetz, and Papa John.
Stein, who is known for a previous viral video wherein he rapped about killing Russian president Vladimir Putin at a Plano, Texas, City Council meeting, filmed the video of himself and Owen and posted it to Twitter. 
Stein also recently recorded and posted a video of himself sexually harassing Congresswoman Alexandria Ocasio-Cortez, catcalling her on the steps of the United States Capitol Building. In that video, Stein called Ocasio-Cortez his "favorite big booty Latina" and characterized her as "hot, hot, hot like a tamale."
At CPAC, it is unclear whether Stein was intending to act as himself or play a character he calls "Primetime 99 Alex Stein." In either case, many who have seen the video are calling Stein out for his aggressive behavior.
Stein Captures Himself Harassing Vice Reporter on Video
In the video, Stein can be seen approaching Owen and saying, "So this is the Vice reporter. You can tell—the only one in a mask here. So how are you doing?"
"Just doing my job," Owen responded. 
"She's here trolling everybody here," Stein said to the camera. "So, she's the only one here in a mask, and she's just saying negative stuff."
"I can't believe they let you in here," Stein continued, turning back toward Owen. "Do you feel like you're a sheep in the lion's den?"
Owen expressed that she had press credentials for the event. 
Stein continued to speak to the camera, "See, this is Vice, guys. This person, she's trying to troll this event. She thinks all of you guys are losers. That's what she posts on the internet."
As Stein spoke, a crowd began to form, with bystanders laughing and jeering. 
"She posts the most out of context stuff. See, Vice is the worst media company there is. They're all liars," Stein said, asking Owen what she thinks about her "crappy media company." 
Commenting that Vice News talks "about drugs," Stein further asked Owen, "Are you a drug addict, too?"
Seeking to draw attention from others on the convention floor, Stein shouted, "This is Vice! She's a loser! She's the only one in a mask! This is what a loser looks like!" Stein went on to ask Owen how many COVID-19 vaccination shots she had received, a question Owen declined to answer. 
As Owen sought to walk away, Stein followed her, shouting, "This is what a Vice journalist looks like, in her little mask at the conservative event! Now she's scared; she's getting attention!" The crowd followed the two, with a number of convention attendees capturing video of the exchange and laughing.