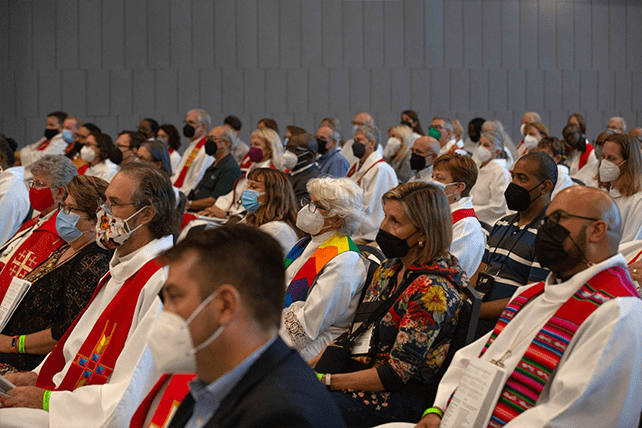 COLUMBUS, Ohio (RNS) — Watching backstage as more than 800 Lutherans sang hymns on the floor of the Greater Columbus Convention Center, Presiding Bishop Elizabeth Eaton mused, "We haven't been singing like this for a long time together.
"It's really powerful."
The Evangelical Lutheran Church in America gathered this week in Columbus for its first Churchwide Assembly since COVID-19 upended churches across the country in 2020.
The triennial gathering brings together members from all corners of the ELCA to hold elections, make declarations and consider legislation guiding the country's largest Lutheran denomination. Their work continued unabated in Eaton's absence Friday (Aug. 12) after the presiding bishop tested positive for COVID despite masking and vaccine requirements.
Here are some of the actions the ELCA Churchwide Assembly took.
Apology to Santa María Peregrina
Four representatives from Iglesia Luterana Santa María Peregrina in Stockton, California, traveled to Columbus to receive a public apology from Eaton during the Churchwide Assembly.
The former bishop of the Sierra Pacific Synod was forced to resign after their abrupt removal of the Latino congregation's pastor on the Feast of Our Lady of Guadalupe sparked outcry across the denomination. Eaton's response afterward — appointing a listening team months later, then failing to immediately act on their recommendations — also drew criticism.
Eaton said the congregation's response was "very gracious," even if it was hard to hear.
"I think it was a healthy thing to do, and I'm touched by the courage of those four to stand up in front of all these people and say, 'This is how this affected us,'" she said.
Eaton said she plans to visit Iglesia Luterana Santa María Peregrina later this month and will work with the congregation, the synod and churchwide leadership to respond to requests the congregation has made.
First Asian American Vice President Elected
The ELCA elected Imran Siddiqui as vice president of the denomination, making him the first Asian American elected to the highest office a layperson can hold.
"This is surreal," Siddiqui said after the final tally was announced.