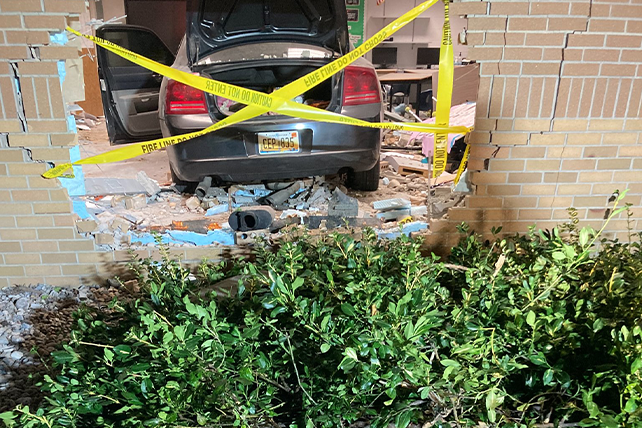 A 56-year-old woman was transported to the hospital "for treatment and other evaluations" after crashing her 2007 Dodge Charger into the building of St. Paul Lutheran Church and School in Millington, Michigan, on Sunday night. 
According to police, the driver "intentionally" drove into the church building around 10 p.m. on Sunday (August 14), crashing through the brick wall of a classroom building. In a picture posted by Tuscola County Sheriff's Office, the vehicle can be seen stopped entirely inside the building. 
It is unclear what the woman's motivation for driving into the building may have been, or what she is being treated for. Police have not stated how they came to the preliminary conclusion that the collision was intentional. 
RELATED: Former Hillsong Employee Alleges Church Misled Donors, Evaded Taxes

Thankfully, the police stated that no injuries were reported in connection with the incident. 
"The incident remains under investigation and information posted here is subject to change," police said early Monday morning. "Deputy LaFlure extends a special thanks to Millington Fire/Rescue, MMR and the Vassar Police Department for their quick and professional service."
In a statement made via Facebook on Sunday night, St. Paul Lutheran Church said, "Due to structural damage, the building will be closed until further notice. We will not have access to the phones, so please contact staff by cell phone or Facebook if necessary. Please watch this page for further updates."
RELATED: Why the Largest US Lutheran Denomination Apologized to a Latino Congregation

St. Paul Lutheran Church is celebrating its 125th anniversary, which the church has marked by celebrations throughout the year. A Teacher Rededication and Open House had been scheduled for Sunday, September 11.