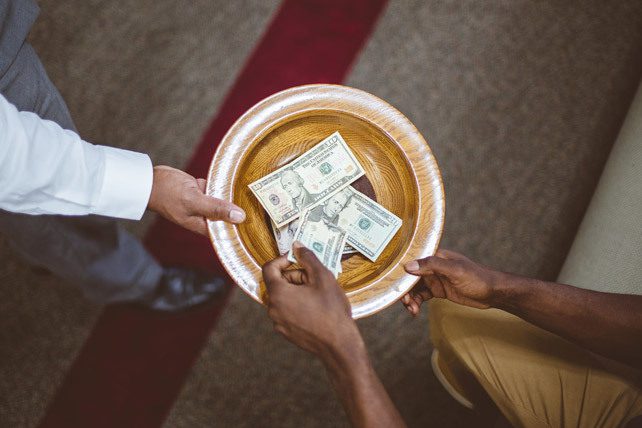 Recent research conducted by Barna has found that only a minority of Christian pastors believe that tithing (giving 10% of one's income to the local church) is a biblical mandate. 
The data is found in "Revisiting the Tithe & Offering," which is part of a series of reports published by Barna titled "The State of Generosity." The research was conducted in partnership with Gloo and Generis, church consultant agencies focusing on outreach and generosity, respectively. 
According to the study, 33% of U.S. pastors surveyed believe that Christians are required to tithe to their local congregation. 70% said tithing doesn't need to be strictly financial, and 21% of pastors didn't recommend a set proportion of income for Christians to give, only suggesting that it should be enough to be "sacrificial." 
RELATED: Creflo Dollar: Some of My Teachings About Tithing 'Were Not Correct'
The report further revealed that the concept of tithing is not as broadly understood as it perhaps once was, as only two out of five U.S. adults surveyed were familiar with the term and its meaning. 59% of practicing Christians said they had a clear understanding of the concept of tithing. 
Twenty-one percent of Christians surveyed give 10% of their income to their local church. Twenty-five percent don't give to their church at all. 
"Church leaders and Christians may wonder whether it matters if the tithe falls out of the mainstream. After all, church giving should not be reduced to an equation, and heartfelt, reverent generosity can be accomplished with or without deep knowledge of the tithe," the report stated. "Still, as a fundamental, scriptural idea of Christian stewardship becomes a hazy concept, it appropriately raises questions—about how modern ministries approach funding and resources, and, more importantly, about the broader culture of generosity being nurtured among Christians."
Generosity is an evergreen topic of discussion among church leaders, with Christian pastors and scholars often disagreeing on whether tithing is a biblical mandate for followers of Jesus. 
In 2017, The Gospel Coalition published a pair of articles arguing for and against tithing as a requirement for Christians. 
RELATED: Money Back Guarantee Tithing? Guest Preacher Robert Morris Challenges Willow Creek to Give With Full-Refund if Unsatisfied
Pastor and theologian William Barclay argued, "The same is true of the tithe. The basic tithe, supporting the work of ministry, remains, even while ceremonial aspects fall away. Yet the tithe is a minimum; Christians are always to give to the poor and support other works that extend God's kingdom (cf. 2 Cor. 8–9). The basic tithe is to be given to the church, to support its work and mission, as seen in Malachi 3."