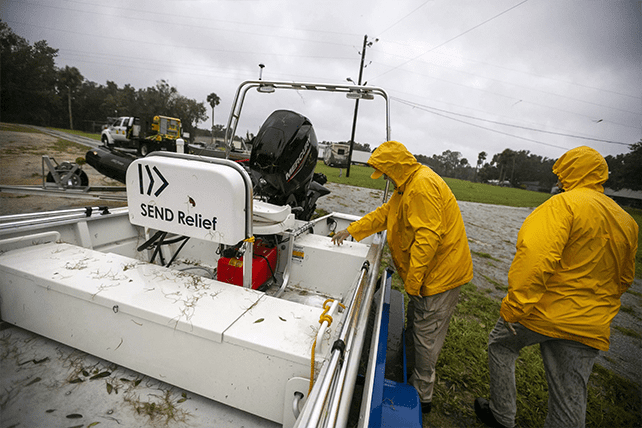 EDISTO ISLAND, S.C. (BP) — Rob Heath had a lot to do today in preparing for Hurricane Ian and a direct knowledge of the unfortunate timing of its arrival to the South Carolina coast.
"We're hearing that it may get here around midday tomorrow," he told Baptist Press as another weather alert went off on his phone. "That's going to coordinate with high tide, which unfortunately, is a little bit higher now because of the moon phase."
Heath, pastor of Redeemer Fellowship Church, is like many who live on Edisto Island. He's not technically from there, but lived for 40 years with his wife Vicki in nearby Charleston, serving as a pastor for about 25 years.
Edisto Island is one of South Carolina's Sea Islands, with a maximum elevation of eight feet. It is accessible by only one bridge, located on its north side.
"We're checking on everyone today and seeing who needs rides [out]," Heath said. "I'm also keeping in touch with the town to let them know who is staying for any help we can provide afterwards."
Further up the coast, First Baptist Charleston has canceled activities through Saturday.
"We have secured our campus and are preparing for cleanup once the storm passes," Pastor Marshall Blalock told Baptist Press. "We continue to pray for our friends in Florida who suffered the worst of the hurricane."
Blalock was in the process of completing an International Mission Board trustee meeting in Richmond, Va., with plans to arrive home this afternoon.
Ian made landfall Sept. 28 in the Punta Gorda/Cape Coral area as a Category 4 hurricane with sustained winds of 145 mph. A "catastrophic" storm surge, winds and flooding came with it, the National Weather Service said.
Losing strength as it passed over land, Ian was eventually downgraded to a tropical storm prior to its emergence over the Atlantic, at which point it will gather strength again. That led to a hurricane warning issued at 10 a.m. Eastern time today for the South Carolina coast.
Southern Baptist Disaster Relief (SBDR) teams from Florida, North Carolina, Kentucky, Louisiana, Alabama, Mississippi, Southern Baptists of Texas Convention, Tennessee, Missouri, Arkansas, Georgia and South Carolina are on stand-by to respond, a Send Relief spokesman said.
Emergency food distribution, flood recovery, temporary roofing and chainsaw projects will commence after the storm passes.