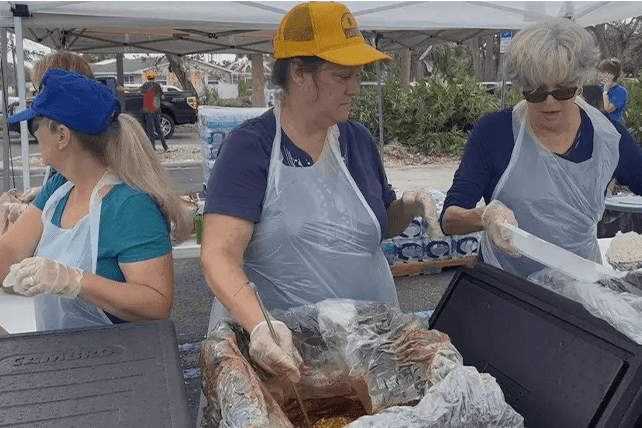 Editor's note: October is Cooperative Program Emphasis Month in the Southern Baptist Convention.
PORT CHARLOTTE, Fla. (BP) – When Hurricane Ian attacked Florida, Florida Baptist Disaster Relief (FBDR) was ready to offer restoration at a moment's notice. State director David Coggins mobilized Florida volunteers as many states mobilized disaster relief teams to respond.
Numbers quickly ascended within days of the storm to include 180 volunteers serving at nine feeding stations and 10 cleanup sites in Florida, deployed from across Florida and eight other states. Through Oct. 5, volunteers had served more than 46,500 meals, completed 32 of the 232 cleanup and rebuild jobs initially requested and led three new believers to Christ.
The work, only a microcosm of the annual scale of Southern Baptist Disaster Relief (SBDR), is funded by the Southern Baptist Cooperative Program and the direct gifts from Southern Baptists and other supporters nationally. Florida has already received two truckloads of food and cleanup and recovery supplies from Send Relief Appalachia Ministry Center in Ashland, Ky.
"So those resources come as a result of people's giving, and our churches that are a part of the Cooperative Program or involved in what we do are making those donations and supplying those resources," Coggins told Baptist Press. "And of course in Florida we are getting donations, but our ministry is part of the Cooperative Program budget of the Florida Baptist Convention. So we have the resources of our state convention and our state Executive Director Dr. Tommy Green is very generous and supportive of that with the resources we need.
"Our equipment is purchased and maintained and operationally ready when there's an event like this because we have those churches that are giving through the Cooperative Program and enable us to do that and have those resources available."
With more than 4,000 credentialed volunteers, FBDR is included in the SBDR network of ministry that in 2021 alone served at least 845,000 meals, logged at least 355,000 volunteer hours, shared the Gospel more than 6,000 times and saw at least 603 professions of faith during emergency responses nationally, according to sendrelief.org. The numbers are not fully inclusive of all disaster relief work in the states, but include a great portion of outreaches, according to the North American Mission Board.
Florida volunteers participated in 500 cleanup and recovery jobs in 2021 across the nation, with no major disaster incident within the state, according to the Florida Baptist Convention 2021 Annual Report. In chaplaincy outreach, 912 chaplains participated in disaster relief and other outreaches, including health care, public safety and hospitality.
Included in the SBDR network and also responding in the current Florida recovery is Texas Baptist Men. Although the group has a masculine name, 42 percent of TBM disaster relief volunteers are women, according to the group's 2021 Annual Report. In that year, and included in the national SBDR numbers, TBM logged 63,336 volunteer hours, provided 19,651 meals and recorded 303 professions of faith in what the TBM called its busiest hurricane season on record.
TBM also responded internationally, digging 17 wells to serve 7,000 people in five countries, the group said in its annual report.
The Louisiana Baptist Convention (LBC), in a state that has suffered devastating hurricane seasons, is also responding in Florida. When Hurricane Ida struck Louisiana in 2021, disaster relief ministries from 29 state conventions responded within a three-week period, according to the LBC 2021 Annual Report, serving at 25 sites in southeast Louisiana. From Aug. 29-Sept. 20 of last year, those volunteers prepared 638,660 meals, assessed 3,163 damaged properties, completed 494 chainsaw jobs, provided 7,558 showers and laundered 5,243 loads of laundry.
Among the 513 people with whom LBDR volunteers shared the Gospel, 87 made professions of faith.