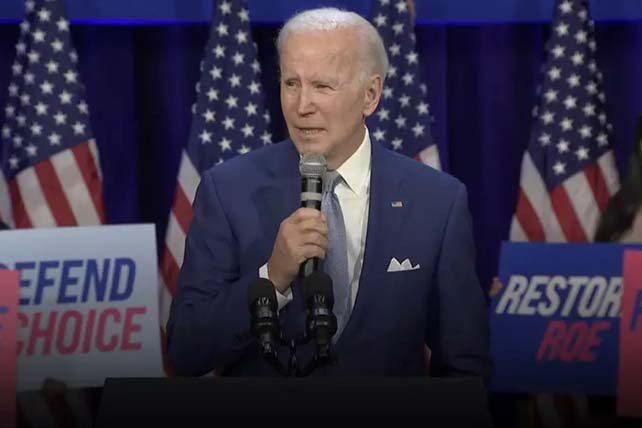 WASHINGTON (BP) – Pro-life leaders expressed their strong objection to President Biden's promise Tuesday (Oct. 18) to make enshrining Roe v. Wade in law his legislative priority if Democrats control Congress in January.
If voters elect more Democrats to the U.S. Senate and keep his party in the majority in the House of Representatives, the "first bill" he will send to Congress will be "to codify Roe v. Wade," Biden said in a speech dedicated to the abortion issue. If Congress approves the legislation, the president said he will sign it into law in January, 50 years after the U.S. Supreme Court's Roe ruling legalized abortion nationwide.
Biden's pledge is the latest evidence of the devotion of his administration and party to protect expansive abortion rights, especially in the wake of the high court's June opinion that overruled Roe and returned abortion regulation to the states.
"The ability to take innocent life should not be part of anyone's governing agenda," said Brent Leatherwood, president of the Southern Baptist Ethics & Religious Liberty Commission (ERLC). "Despite the prevailing narrative, Americans do not support the abortion regime and its abortion-on-demand vision.
RELATED: President Biden Signs Executive Order Protecting Abortion Access, Calls Supreme Court 'Out of Control'
"Instead of catering to those extremes, the president and whichever party controls Congress should work together to prioritize saving defenseless lives, serving mothers and helping ensure that families can be formed and flourish," he told Baptist Press in written comments.
"Not only is that fertile ground for solutions that would speak to the vast majority of Americans, it would advance a vision consistent with our nation's founding promise, namely that each person is guaranteed the unalienable rights to life, liberty and the pursuit of happiness."
The Nov. 8 elections in the middle of his first term as president will determine whether Biden once again will have a Democratic Congress or whether he will face a Republican or divided legislature. Democrats have a 220-212 advantage in the House currently and control the Senate despite a 50-50 split between the parties.
In races for control of the Senate, some Democratic candidates have refused to name any limitation they would place on abortion, while some Republican candidates have been hesitant to offer a robust defense of abortion bans.
Biden has endorsed the Women's Health Protection Act (WHPA), an abortion rights bill that supporters of the proposal have described as a codification of the Roe opinion. The WHPA, however, would eclipse the 1973 ruling by prohibiting federal and state regulations of the procedure that were permitted by the Supreme Court under Roe.
Pro-life advocates have pointed out the WHPA would eliminate such pro-life protections as state bans on abortions based on the sex of the preborn baby and those after 20 weeks because of evidence the child feels pain by that point. It also would annul parental involvement laws, as well as longstanding bans on taxpayer funding of abortion and conscience protections for pro-life health care workers, they say.
RELATED: Biden Says a 'Child of God' Has a Right to an Abortion; Psaki Calls Mohler's Opposition to Roe 'an Outlier Position' 
Kristen Day, executive director of Democrats for Life of America, said the president's "disingenuous and dangerous pledge to prioritize abortion over all the other issues facing this nation shows desperation about the mid-terms and a grave misunderstanding of mainstream America's views on the issue of abortion."