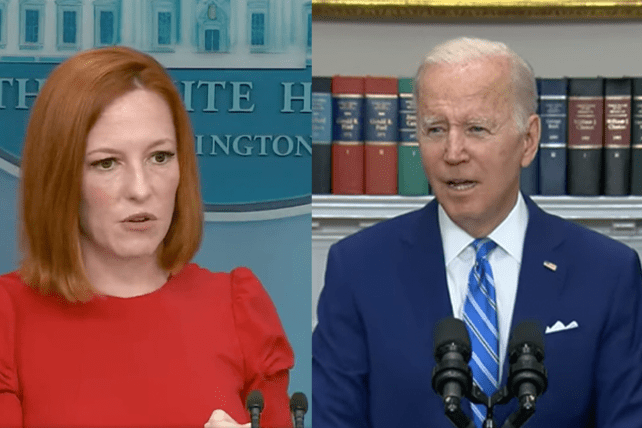 Earlier this week, a draft opinion authored by Supreme Court Justice Alito in the case of Dobbs v. Jackson Women's Health Organization was leaked to the public. The draft indicated that an overturn of the landmark Roe v. Wade case, which made elective abortion a constitutionally protected right, was likely. 
Since then, conversation has exploded across both sides of the issue, with pro-life advocates cautiously celebrating the victory until the decision is finalized, and pro-choice advocates scrambling to respond to what they see as the rollback of an essential right.
During a question and answer period following his prepared remarks on the state of the American economy on Wednesday (May 4), President Biden was asked for his thoughts on the possible overturn of Roe. 
"This is about a lot more than abortion," Biden said. "This reminds me of the debate with Robert Bork. Bork believed the only reason you had any inherent rights is because the government gave them to you." 
Robert Bork, who died in 2012, served as the 35th Solicitor General of the United States before going on to serve as a judge of the United States Court of Appeals for the District of Columbia Circuit.
"If you go back and look at the opening comments…when I was questioning him as chairman, I said, 'I believe I have the rights that I have not because the government gave them to me, which you believe, but just because I'm a child of God. I exist,'" Biden recounted. "I delegated, by joining this Union here, to delegate some rights I have to the government for social good. So the idea that somehow…there is no right of privacy, that there is no right—And remember the debate we had."
"We had a debate about Griswold v. Connecticut. There'd be a law saying that a married couple could not purchase birth control in the privacy of their own bedroom and use it. Well, that got struck down," Biden said. "Griswold was thought to be a bad decision by Bork, and, my guess is, the guys on the Supreme Court now." 
"What happens if you have—a state changes the law, saying that children who are LGBTQ can't be in classrooms with other children. Is that legit, under the way the decision's written? What are the next things that are going to be attacked," Biden went on to say. "Because this MAGA crowd is really the most extreme political organization that's existed in American history—in recent American history."
In response to Biden's remarks, evangelist and Samaritan's Purse CEO Franklin Graham tweeted, "Yesterday @POTUS Biden said that the right to an abortion comes from being a 'child of God.' Mr. President, that is just not true. Being a child of God does not give you the right to take the lives of the innocent. Abortion is a sin—simply put, it's murder."
RELATED: SBC Messengers Long Resolved To Overturn Roe v. Wade

Regarding the concern that the overturn of Roe would necessarily threaten other Supreme Court precedents like Obergefell v. Hodges, which gave constitutional rights to same-sex marriage in 2015, legal expert David French wrote in a recent column, "Alito argues that abortion is dramatically different from cases involving marriage, because abortion involves harm to a non-consenting party, the 'potential life' (to use the language from Roe) of the unborn child."