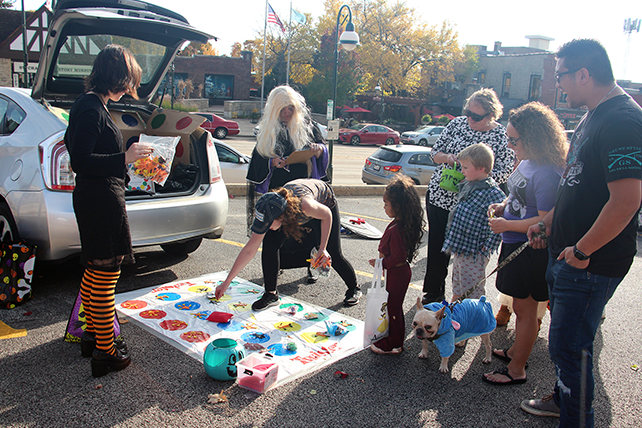 ST. CHARLES, Illinois (RNS) — On Sunday (Oct. 23), just over a week before Halloween, the "Monster Mash" blasted from the back of an SUV decorated with tinsel ghosts and orange and black garland in the parking lot across the street from Baker Memorial United Methodist Church.
The Stay-Puft Marshmallow Man, from the movie "Ghostbusters," handed out candy from one vehicle, while nearby a small Princess Tiana from Disney's "The Princess and the Frog" chose a treat from another festooned with smiling Jack-o'-lanterns.
"Jesus, shine in me," read one paper pumpkin.
A banner across the car's trunk read, "Seek his light."
It was Baker Memorial's annual "trunk or treat," an alternative to house-to-house Halloween candy gathering that has grown in popularity around the country in recent decades. Many are hosted by churches to draw a crowd who might otherwise avoid religious institutions.
For Baker Memorial, the event is a way to serve and get to know their neighbors in this Chicago suburb along the Fox River.
"We love it from the church perspective because we get to see all the kids and talk to the families and bless them with sweet little treats and games," Pastor Kim Neace said.
While Halloween can be traced back to the Roman Catholic observance of All Saints' Day and the Celtic New Year celebration of Samhain, trick-or-treating began its rise to its current popularity after World War II, according to Lisa Morton, author of "Trick or Treat: A History of Halloween." It had some help from candy and costume companies and depictions in popular culture.
Trunk-or-treating came later — around the 1980s — although Morton said she can't pinpoint an exact date.
Like trick-or-treating, children dress in costumes in their hunt for candy, but instead of walking door to door, they walk car to car in a setting where candy-dispensing adults are part of a community like a church or school.
"When it's used in place of Halloween, it can be because of safety concerns or religious objections," said Morton, who noted some churches celebrate harvest festivals or Hallelujah Night in place of Halloween.
But communities like Baker Memorial, which began hosting its trunk-or-treat event in 2015, also use them as outreach to their surrounding communities.