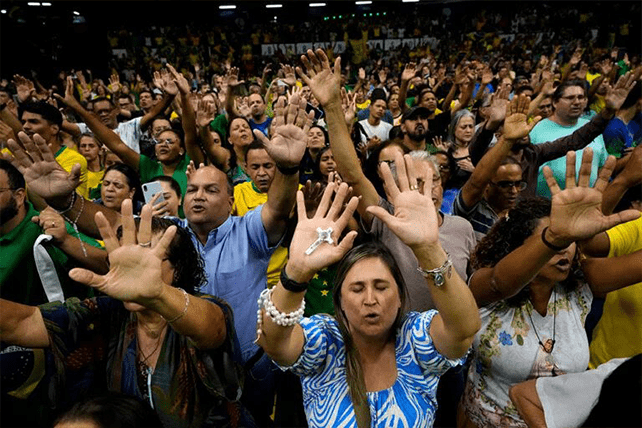 SÃO PAULO (RNS) — In Brazil on Sunday, two titans of the country will face off in a presidential runoff election that observers within the country and around the world are calling the most consequential election in decades for Latin America's largest country.
Former two-term president and beloved icon of the working class Luiz Inácio Lula da Silva, commonly known as "Lula," will face current incumbent president and right-wing firebrand Jair Bolsonaro after neither was able to claim a majority in the first round of the presidential elections on Oct. 2. Da Silva, who received 48% of the initial vote, has lost ground in the ensuing weeks as he works to overcome a corruption scandal that landed him in jail for more than a year. Bolsonaro, who claimed 43% of the first vote, is gaining on his opponent but faces frustration over his administration's handling of the COVID-19 pandemic, as well as the faltering economy.
While issues surrounding the economy, high poverty rates and protection of the Amazon rainforest have been central talking points during their campaigns, both candidates have pivoted to social issues in the weeks since the first election. And the holy war rhetoric has escalated as supporters on both sides work ever harder to demonize the other.
"The biggest lie (Bolsonaro) tells each day is to evoke God all the time. He is lying. He uses the name of Jesus in vain to try to deceive the good faith of men and women," Lula said on Sept. 4 during a meeting with housemaids at the Metalworkers Union in São Bernardo do Campo.
For his part, Bolsonaro continues to pound in a message that da Silva is connected with anti-religious Communist regimes, especially focusing on Daniel Ortega of Nicaragua.
"That criminal (da Silva) in the debate last Sunday did not mention his friend Daniel Ortega. His friend shuts down churches, arrests priests, forbids processions, does not respect religion, the same things PT (da Silva's party) wants for Brazil," Bolsonaro said during a rally on Oct. 18 in São Gonçalo, a city in the Rio de Janeiro metropolitan area.
While both men are Catholic, trading in spiritual language is somewhat unfamiliar for da Silva, who has always prioritized social and economic themes in his campaigns. Even so, his Workers' Party (known as PT in Brazil) has historical ties with progressive Catholicism. Founded in 1980 by union leaders, left-wing activists and members of Catholic groups like the base ecclesial communities (known as CEBs), their efforts were inspired by the Liberation Theology movement.
But with Bolsonaro's religious outreach looking more effective, members of da Silva's campaign have clearly embraced a tactical change.
Bolsonaro has long courted both evangelicals and right-wing Catholics, with an emphasis on religious freedom, anti-abortion and anti-LGBTQ issues. His wife, Michelle Bolsonaro, who is a member of a Baptist church, has been playing a fundamental role this year, making speeches during evangelical church services around the country, portraying Lula and his left-wing allies as diabolical forces that can only be defeated by Bolsonaro.
The religious attacks have been playing a central role in recent polls, according to demography expert José Eustáquio Diniz.
"Six months ago, surveys showed that Lula and Bolsonaro had almost an equal share of the evangelical vote. Now, Bolsonaro has almost 70% among them," he said. Among Catholics, da Silva has 57% of their support, while Bolsonaro has 37%.
Marcelo Vitorino, an expert in political marketing who has led the campaign of major politicians in Brazil, told Religion News Service that "Bolsonaro has built a solid reputation among conservative Christians," so attacks against him may not harm his image much in Christian segments.