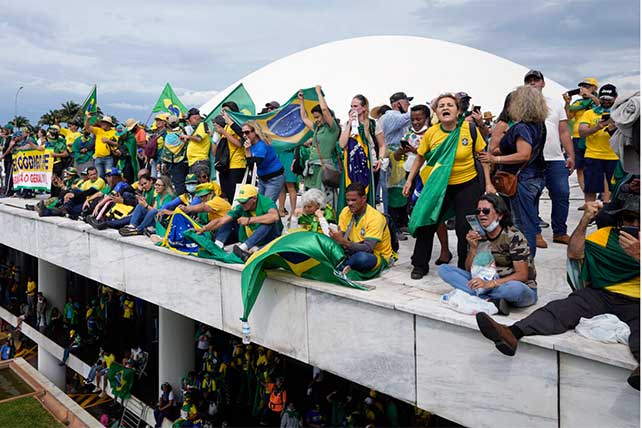 SÃO PAULO (RNS) — The storming of the capital city of Brasília on Jan. 8 by thousands of supporters of Brazil's former president, Jair Bolsonaro, not only left a trail of destruction, but demonstrated that a very well-organized segment of the country's citizenry is willing to see a military dictatorship take power.
In the aftermath of the destructive riot, which has been likened to the Jan. 6, 2021, insurrection at the U.S. Capitol, President Luiz Inácio Lula da Silva's administration has detained around 1,800 people who invaded government buildings.
Among those arrested were at least four evangelical pastors, according to Agência Pública, a Brazilian investigative news agency, which analyzed the government labor records of 1,398 detained demonstrators. The pastors were representative of the significant presence of evangelicals and Catholics among the mob.
It has become clear that hundreds of Christian organizations — neo-Pentecostal churches especially, but also Catholic groups — were involved with or had members take part in the attempted coup.
RELATED: Presidential Standoff Becomes a Holy War in Brazil
Numerous videos posted on social media showed rioters praying, shouting Christian slogans and singing gospel hymns as they stormed the capital buildings. In one of the clips that went viral on Brazilian social media, a group is seen at the Senate's assembly room and one man shouts over and over again: "Brazil belongs to Lord Jesus! The Senate is our church! The Senate is the church of the people of God!"
"Those are people who think they are heroes, so they recorded their actions and showed their faces. They had a clear religious rhetoric. We can see them citing the Bible or speaking in tongues in different videos," explained Vinicius do Valle, a political scientist who directs the Evangelical Observatory, a nongovernmental organization studying Christian churches in Brazil.
Do Valle argues that Bolsonaro created a political persona with religion as a central element.
"It is a kind of religiosity connected to conservative aspects of Christianity. That is why he was able to establish a deep alliance with evangelicals and conservative Catholics," he added.
That alliance is here to stay, according to Priscilla dos Reis Ribeiro, a theologian and human rights activist in Rio de Janeiro.
RELATED: Brazil's Lula Issues Letter to Evangelicals To Allay Concern
"Social media groups have been disseminating disinformation to support Bolsonaro's fascist administration for four years. The mentality created in that process will not suddenly disappear," she told Religion News Service, noting that many conservatives believe Lula's Workers' Party is a communist force bent on destroying Christian churches.
Those fears have become so deeply rooted, according to Ribeiro, for some to believe their only hope is a military regime — that democracy is no longer strong enough to protect them or their churches.
"Those groups assumed a fundamentalist nature and believe in political violence," Ribeiro warned.