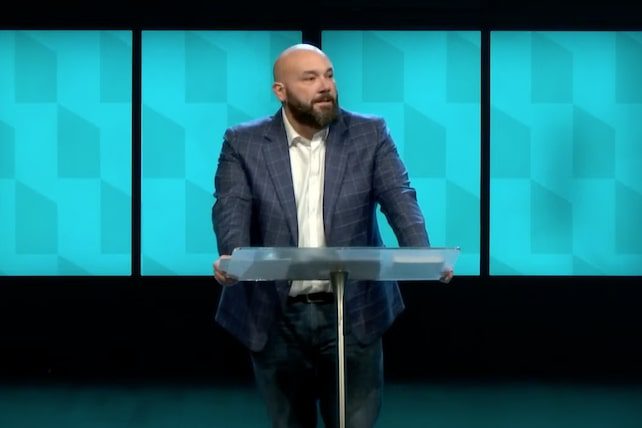 MADISON, Miss. (BP) – In speaking to worshippers at Broadmoor Baptist Church yesterday (Oct. 30) Lead Pastor Josh Braddy presented several action steps toward addressing a decades-old case of sexual abuse to which he and other church leaders believe "a more thorough response was warranted."
The case centers around a former member of Broadmoor's youth group who approached church leaders recently over abuse she suffered from the youth minister during the 1980s.
Allegations include abuse and inaction by staff. Current church leadership has committed itself to investigating the charges, updating current policies and procedures and, if need be, assisting in the survivor's legal defense should there be a lawsuit brought over violating a non-disclosure agreement with the alleged perpetrator.
"Many times we ask ourselves, 'What in the world, God, do you want from me?'" Braddy said toward the end the morning worship service. "I always go to one verse that leads me to that place.
"It's from the prophet Micah. He says, 'Man, you have been told what the Lord requires of you. It is to do justice. It is to love mercy. And it is to walk humbly with your God.
"Today, I want to do that before you."
In 1982, he said, 28-year-old married father David Ingram joined the church as youth pastor. Ingram served in that role until 1988, with his family remaining "active and engaged" members of Broadmoor until he was called to be the lead pastor of a nearby church in 2010.
"As a church family, we loved David, his wife and his children, and we still do," said Braddy.
The survivor approached a former Broadmoor pastor shortly after Ingram was no longer the youth minister over the case and again in 2019 for assistance in warning Ingram's church over the abuse. It is unclear, Braddy said, if any steps were taken beyond the former pastor expressing "acknowledgement and grief."
"We recognize that this journey will be full of grief, and that many of you may also feel anger, confusion, loss and many other emotions," Braddy said. "Our church family has strong relationships with both the survivor's family and David's and the wounds are and will be deep."
Acknowledging that the news would bring "an intensely painful time" for those in the congregation who have also experienced abuse, Braddy announced several steps.