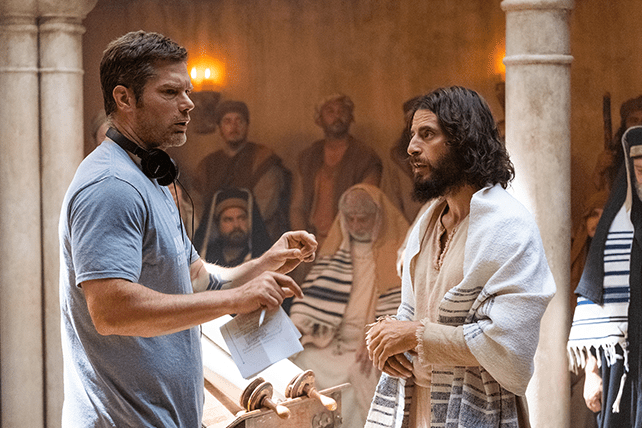 (RNS) — "The honeymoon phase is over."
That's how director and creator Dallas Jenkins describes season three of "The Chosen," a TV show about the life of Jesus. During the first two seasons of the wildly popular show, viewers watched Jesus and his disciples come to life, not as holier-than-thou stock characters, but as authentic people with conflicts, quirks and humor.
More than a year after the season two finale debuted in July 2021, season three begins as the disciples embrace their 12th member, Judas, and face a new era, where the cost of following Jesus crystalizes. Now, starting on Nov. 18, "The Chosen" fans can view the first two episodes of the new season in more than 2,000 movie theaters across the U.S., Canada, New Zealand, Australia and the United Kingdom. Funds from the ticket sales will allow the show to continue to be free to all viewers, according to Jenkins. In December, the episodes will be available free to all on The Chosen app, website and other streaming platforms.
The fan-funded series has more than 420 million episode views and a 100% score on Rotten Tomatoes. It has also been translated into 62 languages and counting. Last month, the show was recognized at the 2022 GMA Dove Awards, the contemporary Christian music honors, where it won for inspirational film/series of the year. This fall's theater release is the second time the show will be seen on the silver screen, following its record-breaking Christmas special hit theaters last December.
Religion News Service spoke to Jenkins about what fans can expect in the show's much-anticipated third season. This interview has been edited for length and clarity.
Last year's Christmas special was the first time "The Chosen" was seen in theaters. How is this season three theater release building on last year's success?
Last year's Christmas special sold out in about two hours. It just kept expanding and ended up doing more than $14 million at the box office without us spending barely any money on advertising. So that was really exciting for us. I think we learned a lot from that release, and so did Fathom Events, which is our distribution partner on this. They changed their old model to accommodate the fact that this could clearly become more than just a singular event. It could become even more of a traditional theater release with multiple screenings, multiple theaters. I think the biggest thing is just recognizing there is an appetite for this. People do want to go see it in theaters; how can we give them that opportunity and maximize this potential?
Where was season three filmed?
A fan told us to check out a Salvation Army campsite in Texas. I was kind of skeptical because it wasn't something we could own ourselves. But they have hundreds and hundreds of unused acres and have a similar mission to us. And so we went and visited and it just looked beautiful. We decided to partner with them and to use the land but then also to build a first century set and a soundstage. Salvation Army has been supremely cooperative and are also going to get to use the set for first century biblical education for people who come for conferences and for underprivileged kids who are using their camp. It's going to be a great opportunity to be more than just a set for "The Chosen." I think when viewers see season three, they're going to see the fruits of our labor, for sure.
Season three will include the story of the feeding of the five thousand. What did it take to film that ambitious scene?
Oh, gosh, it took everything. We were filming out in the 100-degree heat in the middle of the Texas field with thousands of people we had to take care of. It was without a close second the most challenging thing I've ever been a part of in my career. Most of the cast and crew would agree. It was exhilarating because the people were so excited to be there. We had approximately 4,200 to 4,300 extras per day over the course of three days, so over 10,000 people showed up to our set. My wife commented, "It's hitting me that we have to feed 5,000 people today." Without Jesus doing a miracle, that alone is pretty challenging.
We filmed the scene over the course of a couple of weeks. The situation that Jesus was walking into, the emotional and spiritual circumstances the disciples were facing, all of that took place over the course of an episode and a half. So it took us weeks to film it, and every single day it was painful. So that was extraordinarily challenging, but I do believe it's ultimately going to be worth it because the scene is turning out even better and more impactful than I anticipated.
You've said that in season three, the honeymoon phase is over. What do you mean by that?
So Jesus has gathered the 12 apostles now, and they're all excited. They're with the Messiah, they believe, they've seen the miracles. This is going to be awesome. And then it's not awesome. They're still oppressed by the Romans, Simon and Eden are having a marital crisis. Little James hasn't been healed, and yet he's being asked by Jesus to go heal people. These are all compelling but also confusing places for them to be in. And so we don't shy away from that in season three. 'Come to me all you who are weary and heavy laden and I will give you rest.' That's the theme of the season. So the fun part of being chosen when you didn't feel like you deserved it by the savior of the universe is very exciting, but walking with him is not always fun. And I think that's going to resonate with viewers.