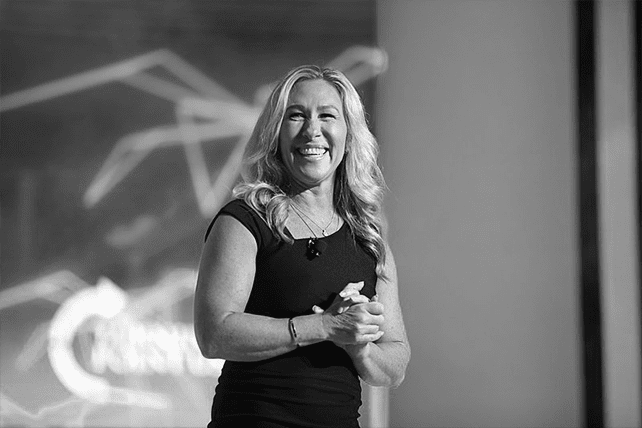 As Americans go to the polls on Tuesday, they do so after months of being bombarded by political advertisements and opinions from public figures, including their local pastors. 
In a sermon streamed on Nov. 2, Sure Foundation Baptist Church of Spokane, Washington, pastor Jason Graber lent his voice to the conversation by advocating against Georgia congressional representative Marjorie Taylor Greene's re-election bid. 
While some evangelicals have vocally supported Greene, others have raised alarm bells at her recent advocacy for Christian nationalism. 
In July, Greene said, "I think Republicans really need to recognize the people they represent, okay? Their voters—not the lobbyist donors, not the corporate PACs, not those people…We need to be the party of nationalism. And I'm a Christian, and I say it proudly: we should be Christian nationalists." 
RELATED: God Is 'a Nationalist': Marjorie Taylor Greene, CA Pastor Rob McCoy Discuss Globalism at TPUSA Event
Prior to these remarks, most Republican Christians had shied away from identifying with Christian nationalism, as they saw it as a slur hurled at them by progressives. However, Greene's shift in language has resulted in more widespread use of the term as a self-identifier, both within the political sphere and in evangelical circles generally. 
Nevertheless, Graber's opposition to Greene's re-election arises not from her stance on Christian nationalism. Instead, he opposes her because she is a woman.
"Everyone is getting riled up…'We need to have a red wave, otherwise, you know, we're gonna be destroyed,'" Graber said in reference to Tuesday's midterm elections. "And in some ways, yeah, you know, I agree. We're gonna be destroyed."
Graber continued, "But here's the thing. If we have this red wave, are they going to do anything? Are they gonna pass, you know, the abortion ban nationwide and have all abortion doctors retroactively put to death? Are they gonna do that? No. Why? Because they're cowards."
"But today we have Marjorie Taylor Greene," Graber went on to say. "And anybody who votes for her, you know, you're not a real conservative. Fake conservative," Graber said. "Why? Because Marjorie Taylor Greene should be at home being obedient to her husband. That's what she should be doing. Where's her husband?"
RELATED: Pastor Robert Jeffress: If Voting One's Values Is Christian Nationalism, 'Count Me In'
Graber was apparently not aware that Greene's husband, Perry Greene, filed for divorce in September. The divorce filing indicated that the couple was already separated.