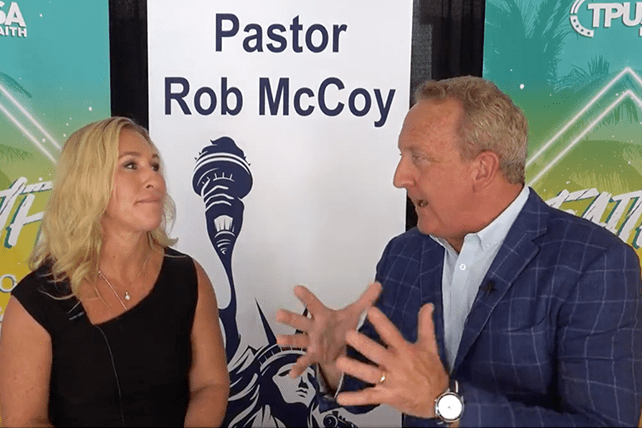 At a conservative political event for students held in July, Congresswoman Marjorie Taylor Greene argued that Christian nationalism would be vital to the success of the Republican Party moving forward. 
"I think Republicans really need to recognize the people they represent, okay? Their voters—not the lobbyist donors, not the corporate PACs, not those people," Greene said in an interview during Turning Point USA's Student Action Summit in Tampa, Florida. "That's not who the Republican Party should represent."
"We need to be the party of nationalism," she continued. "And I'm a Christian, and I say it proudly: we should be Christian nationalists."
"Now if the Republican Party becomes a party that actually does the things we say we're about, then we are going to be a party for nationalism. Isn't that right," Greene reiterated during a speech at the event. "So, you see, I also call myself a Christian nationalist. And that's not a bad word. That's actually a good thing, right?"
RELATED: 'We Should Be Christian Nationalists': Rep. Marjorie Taylor Greene Casts Her Vision for the GOP
At the time, Greene's comments represented a marked shift in language for conservatives, who had previously rejected the term "Christian nationalism," seeing it as a pejorative. Nevertheless, it appears that Greene's embrace of Christian nationalism has emboldened a small number of other conservatives to reimagine their own relationship with the term, including some high profile evangelical leaders and pastors. 
Among those evangelical leaders is California pastor Rob McCoy, who has spoken at Turning Point USA (TPUSA) events in the past. In a more recent event held by the conservative media organization aimed at influencing college students, McCoy sat down with Greene to discuss his belief that supporting international organizations and alliances is not only unwise but misaligned with God's character. 
"And they believe in this idea of globalism; World Economic Forum, World Health Organization. And they've been told that America's bad," McCoy said. "And I love what Dennis Prager says: 'America's faults are universal, but our successes are unique." 
Greene nodded in agreement, saying, "Yes." 
RELATED: Republicans Keep Mostly Mum on Calls To Make GOP 'Party of Christian Nationalism'
"And this is—for four percent of the world's population, more patents, Nobel Peace Prize winners, more symphonies, more accumulation of wealth—because we've had freedom. And I think people have forgotten how great America is, and you don't have to be ashamed," McCoy continued. "God is not a globalist. He's a nationalist."