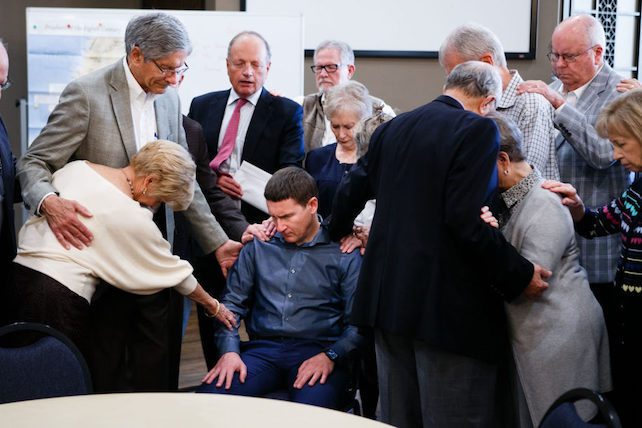 LVIV, Ukraine (BP) – Russian missiles that have fallen closest to Ukrainian Baptist Theological Seminary (UBTS) President Yaroslav "Slavik" Pyzh's home destroyed an electrical substation in Lviv as Russia revamps its war on Ukraine.
"What they're doing for winter, they're trying to freeze people," Pyzh, also a pastor and Southwestern Baptist Theological Seminary graduate, told Baptist Press as Ukraine enters its coldest months of the year in the midst of war.
Pyzh describes Russia's tactic, coupled with the nearly 7,000 civilian war deaths to date, as genocide.
"They're purposefully destroying Ukrainians because they are Ukrainians," Pyzh said. "That's genocide, big time."
Many national leaders globally, including U.S. President Joe Biden, have accused Russia of genocide in its latest war on Ukraine. The United Nations General Assembly adopted a resolution Nov. 14 calling for Russia to pay war reparations to Ukraine as compensation for loss, damage and injury, and to establish a registry to document evidence and claims for compensation.
But the UN has not officially charged Russia with meeting the requirements of genocide as it is defined in international law.
Pyzh points to mass graves found in such cities as Bucha and Kharhiv after Ukrainian troops retook the territory from Russia.
Since Feb. 24, Russia has killed at least 6,557 people and injured at least 10,704 in Ukraine, including 6,149 men and women, and 408 boys and girls, the United Nations High Commissioner for Human Rights reported in its Nov. 15 civilian casualty update. Millions have fled Ukraine.
"They were just killing people for being Ukrainians," Pyzh said, pointing out Russia denies Ukrainians' existence. "And they do not believe that Ukraine exists, and they do not believe that Ukrainians exist. Officially they've said it many times, there is no such nation as Ukraine. It's all Russia."
In one of its most intense missile strikes of the war, Russia spewed 85 missiles over urban areas including Lviv in a span of two hours Nov. 15, NPR reported, targeting energy infrastructure and leaving millions without power. Reports included a missile strike that killed two on a farm in Poland bordering Lviv.