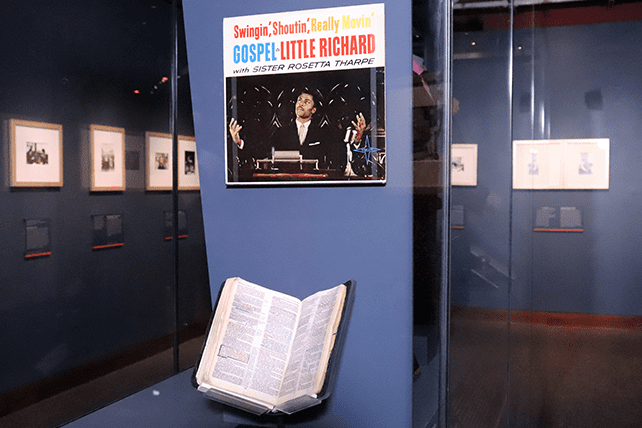 WASHINGTON (RNS) — Musician Dizzy Gillespie embraced the Baha'i faith and its belief in universal humanity — a concept he saw reflected in jazz, which he viewed as a blending of musical elements from Africa and Europe.
Activist Angela Davis, faced with the horror of bombings by white supremacists as a youth in Birmingham, Alabama, took part in interracial discussion groups at her church.
Singer Tina Turner practiced both recitations of the Lord's Prayer and chants of Buddhist Scripture.
The religion and resiliency of Black Americans are featured in "Spirit in the Dark: Religion in Black Music, Activism and Popular Culture," a new exhibition of the Smithsonian's National Museum of African American History and Culture.
"Spirit in the Dark," which opened Friday (Nov. 18), is the first special exhibition to focus specifically on religion since the museum opened in 2016. Photos and artifacts are accompanied by quotes of famous African American singers, clergy and writers from the pages of Ebony, Jet and Negro Digest (later known as Black World), all publications of the Johnson Publishing Company that, from its founding in 1942, sought to capture African American culture.
"Every man prays in his own language, and there is no language that God does not understand," jazz great Duke Ellington told Ebony in the 1960s, a time when he performed his sacred concerts in churches.
Prince, whose 1981 "Controversy" album cover is on display in a case of artifacts, also spoke of religious universality when he told Ebony: "I think God is inside everybody."
The exhibition, a presentation of the museum's Center for the Study of African American Religious Life, is divided into three sections, including one called "Blurred Lines," which notes the merging of the holy and profane in the lives of many well-known Black Americans.
Eric Lewis Williams, the museum's curator of religion, points to a 1974 photo of Marvin Gaye, drawn from the Johnson Publishing Company Archive, as a highlight for him in the exhibition.
"In the image, you see him with his hands uplifted," he said of the pink-jacketed man, adding that Gaye's "high fashion" head adornment "signifies that the person wearing it is under God."
"We know he comes from the Hebrew Pentecostal tradition. You don't know if he's on the altar or he's at a disco," Williams told RNS.
The exhibition, which includes the cover of Gaye's "What's Going On" album, notes there is evidence of the singer's "strong religious and sexual sensibilities" in his later music, including the songs "Sanctified Lady," "Sexual Healing" and "Let's Get It On."