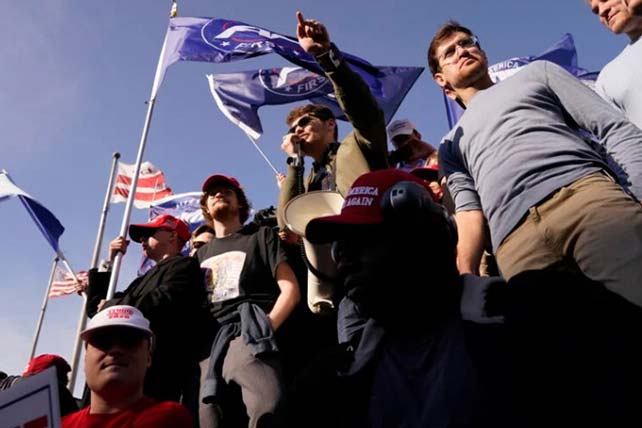 (RNS) — When supporters of former President Donald Trump rallied near the White House on Jan. 6 2021, a boisterous pocket of young men waving "America First" flags broke into a chant: "Christ is King!"
It was one of the first indications that Christian nationalism would be a theme of the Capitol attack later that day, where insurrectionists prayed and waved banners that read "Proud American Christian."
The chant also announced the presence of followers of Nick Fuentes, the 24-year-old white supremacist and Christian nationalist leader who dined Tuesday evening (Nov. 22) with Trump and the rapper Ye, also known as Kanye West, at Mar- a- Lago, Trump's home and resort in Florida.
RELATED: Mike Pence Says He Told President Trump He Was Praying for Him After Jan. 6; Trump Replied, 'Don't Bother'
Fuentes' appearance at Trump's table has brought criticism for the former president, who had only a week before formally launched a new campaign for the White House. The dinner apparently caused embarrassment in the Trump camp: Hours after reportedly saying that Fuentes "gets me," Trump now claims he didn't know who Fuentes was.
Fuentes' notoriety  has been growing since the then-18 year old Boston University student attended the 2017 Unite the Right rally in Charlottesville, Virginia, where neo-Nazis and other white supremacists marched to protest the removal of Confederate statues from the city's public spaces. At the time, Trump said there were "good people on both sides" of the clashes that followed, in which a counter-protestor was killed.
Fuentes claimed that he had received death threats on his return to Boston, and he left college to begin a media career as the host of "America First with Nicholas J. Fuentes," a livestreamed TV show that often echoed Trump's anti-immigrant fulminations.
But while Trump sees the "America First" movement largely in terms of protecting U.S. trade and guarding the nation's borders, Fuentes explicitly calls for the preservation of European American power. A Catholic, Fuentes has celebrated the idea of "Catholic Taliban rule," and in March of 2021, told an audience at his America First conference that the United States, which he called "a Christian nation," will cease to be America "if it loses its white demographic core and if it loses its faith in Jesus Christ."
Fuentes has also denied the Holocaust on his America First livestream, and has said that, as non-Christians, Jews have no place in Western Civilization. West, who recently lost a licensing contract with Adidas after he issued an antisemitic tweet, was said to have brought Fuentes along to Mar-a-Lago as a consultant to his own as-yet-unannounced. White House bid.
RELATED: Kanye Tells Tucker Carlson, 'I Perform for Audience of One and That's God.' Sean Feucht, Owen Strachan Respond
Though Fuentes was subpoenaed by the House committee investigating the Capitol attack, and a person carrying an American First flag was spotted in the Senate chamber during the insurrection, there is no evidence Fuentes entered the Capitol himself on Jan. 6. But Fuentes' channeling of religious fervor in the name of right-wing extremism has played no small part in keeping Christian nationalist ideology alive in the aftermath of the insurrection.
Throughout the pandemic, Fuentes and his supporters, known as Groypers, were one faction in a large and amorphous network of anti-vaccine protestors and anti-abortion demonstrators. At 2022's March for Life on the national mall, Fuentes' Groypers held crucifixes aloft.