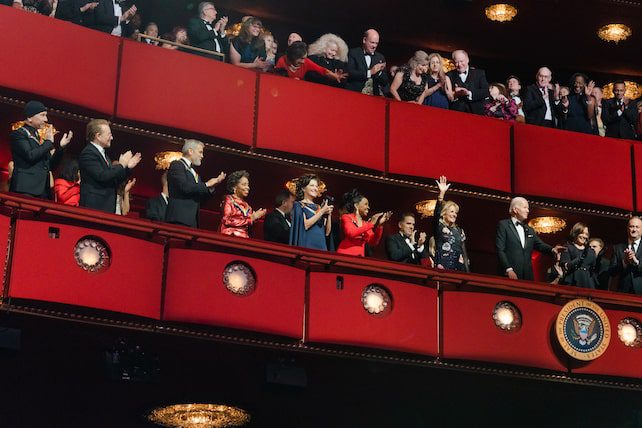 (RNS) — The Kennedy Center Honors, on its 45th occasion, recognized singer and songwriter Amy Grant, marking the first time the top cultural distinction was given to a contemporary Christian musician.
"There are stories of tenacity, stories of faith, stories of unfettered creativity and stories of endurance," said actress and 2002 honoree Chita Rivera at the Sunday (Dec. 4) event that highlighted the "queen of Christian pop" along with actor George Clooney, singer Gladys Knight, Pulitzer Prize-winning composer Tania León and the rock band U2.
"Tonight, we broaden that spectrum to include for the first time ever a contemporary Christian music artist, Amy Grant," she said. "In her amazing 40-plus years, Amy has logged success after success without ever compromising her faith or her individuality."
In a brief red-carpet interview just before the black-tie event, Grant said she hoped to live up to the honor in representing the genre.
"Well, I'm a little bit of a rascal; I hope I do them proud," she said, laughing.
Her arrival at the Kennedy Center came less than five months after a bike accident and hospital stay — neither of which the musician can remember — that forced her to postpone some concert dates.
RELATED: Faith in the spotlight on Kennedy Center red carpet and stage at annual Honors gala
Grant, who described herself as "doing well," said she appreciated being back on tour and at the Kennedy Center, even if it felt a little overwhelming after her extended time of rest.
"I felt like I was feeling really confident on my two-mile-an-hour treadmill and then I merged onto Interstate traffic," she said. "Just did my first show last week. And this has been such a beautiful way to reengage."
Grant, 61, has six Grammys and more than 20 Dove Awards from the Gospel Music Association. The Gospel Music Hall of Fame honoree signed her first record deal at age 17.
She became the first contemporary Christian musician to have a No. 1 hit on the pop charts with "Next Time I Fall," a 1986 duet with Peter Cetera of the band Chicago. Five years later, her fame spread with "Baby, Baby," a hit from her 1991 platinum album "Heart in Motion."