"We didn't see in the headlines that there was a Black woman, Dr. Carla Stokes, who was the interim pastor for that congregation, keeping those 20,000 members together — teaching, preaching, Bible study," she said.
Stokes, when she came to the stage, said the event had inspired her to do more.
"I grew up in a church that didn't acknowledge women as ministers. I grew up only being able to stand on the floor and not on the pulpit. I grew up teaching Sunday school but never in a pulpit," she said. "But I came to tell you when God calls your name, you got to answer and do what he says."
Another honoree, the Rev. Ayanna Mishoe-Brooker, associate pastor of a Baptist church in Dover, New Jersey, acknowledged her husband, the church's pastor, who welcomes her as a co-leader.
"He allows me to be his rib; he allows me to be at his side; he allows me to minister," she said. "We have some pastors who don't allow that. They tell you to sit down but I don't get that from him. So thank you for allowing me to operate with my gifts."
Though more than 20 took the stage, one of the honorees, the Rev. Sheila McKeithen, senior minister of the Universal Centre of Truth for Better Living, a New Thought congregation in Kingston, Jamaica, made a point of honoring those who were not there.
"For the women whose names won't be called: They're laboring. They're doing the work. They're not getting an award," said McKeithen, one of several honorees ministering internationally. "But tonight, I call your name. I call your spirit."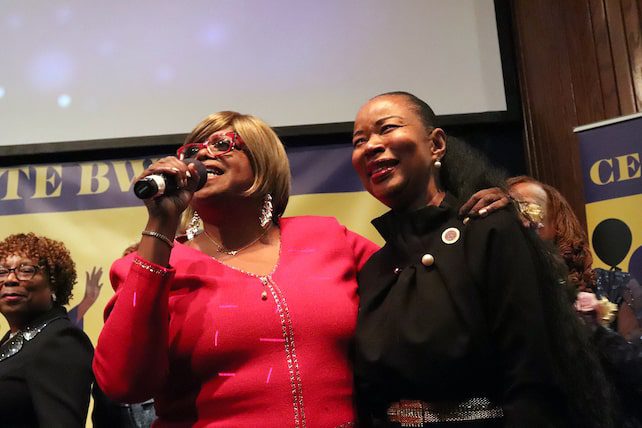 At the conclusion of the event, Johnson Cook's own name was called unexpectedly. Deborah Martin, dean of students at Virginia Union University, a historically Black institution in Richmond, announced that its new continuing educational center for women in ministry would be named after Johnson Cook.
The former ambassador knew the center, a partnership with the BWIM initiative, would be announced but not that it would include her name.
A surprised Johnson Cook said after the event that the center is expected to open next year.
"It really means that for generations, not only my name but the work of Black women in ministry will be able to carry on," she said.
RELATED: 'Blessing of Elders' lauds 7 Black Christian luminaries at Museum of the Bible gala
This article originally appeared on ReligionNews.com.