Accompanied by the recitation of Maya Angelou's poem "Still I Rise," the faces of two dozen women flashed across the screen and were praised as trailblazers and "unsung she-roes."
The women were noted for being senior pastors, ministry leaders, music and dance officials, business people and community servants who have been responsible for pop-up COVID-19 vaccination clinics at churches or food distribution to the needy.
The Rev. Caretha Crawford, an honoree, mentor and pastor of Gateway to Wholeness Church Ministries in Largo, Maryland, said her involvement in the initiative was a sign that "the Lord is smiling on me" after more than 30 years of ministry.
In an interview before the banquet got underway, she said the program has allowed Black women like her "just to know that somebody is seeing and recognizing what you're doing and taking some of the load and the burden off of you. Because ministry can be very burdensome."
The Rev. Ammie L. Davis, who was installed early this year as president-dean of Turner Theological Seminary, the African Methodist Episcopal institution that is part of the Interdenominational Theological Center in Atlanta, was another honoree.
She said the occasion started her on a new road of networking among female Black ministers, which often occurs informally but is formalized through Johnson Cook's initiative. In an interview as she arrived, Davis noted that though she is a trailblazer as the first woman president of her seminary since its founding in 1894, she was an admirer of others who had gone before her, including Stewart.
"It's a unique opportunity to be recognized as a trailblazer when you see yourself more as an ambassador and servant of God," said Davis, who said she's excited about becoming more effective as a mentee as well as a mentor. "I'm the novice that's at the table."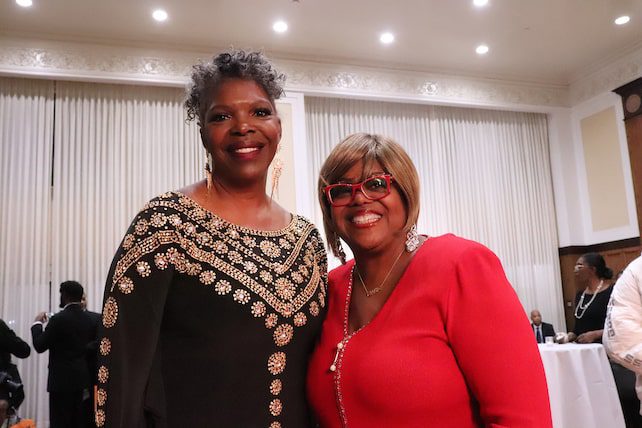 The event also focused on women who are not in top roles but who nevertheless serve in ministry in ways they feel called to pursue.
"If I had a dollar for every time somebody asked me, 'When are you going to get your own church?'" said the Rev. Gloria Miller Perrin, who has served the last 20 years as an associate pastor of First Baptist Church of Glenarden in Maryland. "But I knew what God had called me to do. And I am so glad that I have followed the Lord's direction in my life."
Johnson Cook pointed out another honoree and mentor, Pastor Carla Stokes, who had worked out of the limelight developing The King's Table outreach ministry at New Birth Missionary Baptist Church in the Atlanta area. The ministry recently served its 1 millionth person. But Stokes also led the megachurch after the death of Bishop Eddie Long and before the arrival of Rev. Jamal Bryant.