Roughly 2 in 5 Americans believe that we are living in the end times, according to a new study conducted by Pew Research. This number jumps to 63% among evangelicals and 76% among Black protestants. 
Notably, only a minority of mainline protestants and Catholics agree: 31% and 27%, respectively. These numbers are much more in line with religiously unaffiliated Americans, 24% of which believe we are living in the end times. 
Nevertheless, despite the common belief in religious spaces that the end is near, evangelicals are among the least likely to see the potentially existential threat posed by climate change as an issue of serious concern. Only 34% of evangelicals believe that global warming is an "extremely/very serious problem," compared to 55% of mainline protestants, 68% of Black protestants, 57% of Catholics, and 70% of the religiously unaffiliated.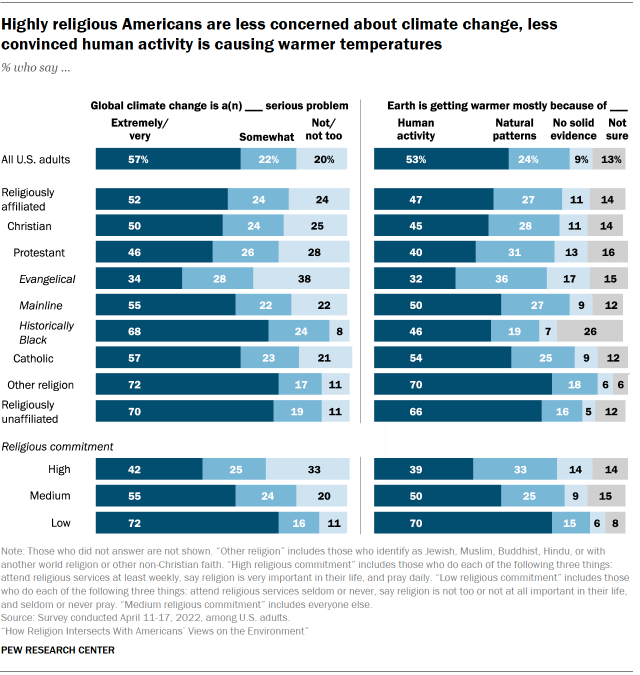 Evangelicals are also the least likely to believe that climate change is affected by human activity, with only 34% believing so. This is compared to 55% of all Americans and 66% of the religiously unaffiliated. 
RELATED: Evangelical Group Releases Climate Change Report, Urges a Biblical Mandate for Action
Nevertheless, 64% of evangelicals agree that the earth is sacred, and 86% mostly or completely agree that "God gave humans a duty to protect and care for Earth."
In attempting to explain these numbers, Pew discovered that no single explanation can be found. However, researchers did note that lowered concern about global warming among evangelicals could be explained by a variety of factors that were both political and theological in nature. 
From a political standpoint, researchers discover that, across every category of religious affiliation, those who leaned Republican or were registered Republican were far less likely to agree that global warming is a serious problem. Given that a majority of evangelicals in America lean Republican, this political factor could partly explain the skew in responses. 
In line with Republican philosophy of government, 56% of evangelicals fear that environmental regulations "will cause a gradual loss of individual freedoms" and that the government will "overreact to global climate change by creating unnecessary environmental regulations." Among all Americans, 42% agree with the former statement, and 39% with the latter.
Nevertheless, religious factors are also at play. Among respondents who were religiously committed (defined as attending a religious service at least once or twice a month), only 8% said that they have heard a great deal about climate change in sermons or spiritual teachings. 
RELATED: When the Cultural Climate Gets Political, How Does the Church Stay Missional?

In fact, 81% of evangelicals said that their exposure to conversations regarding global warming from the pulpit was "little to none." Relatedly, 86% of evangelicals said that they have had few to no conversations about climate change with other people in their congregation.