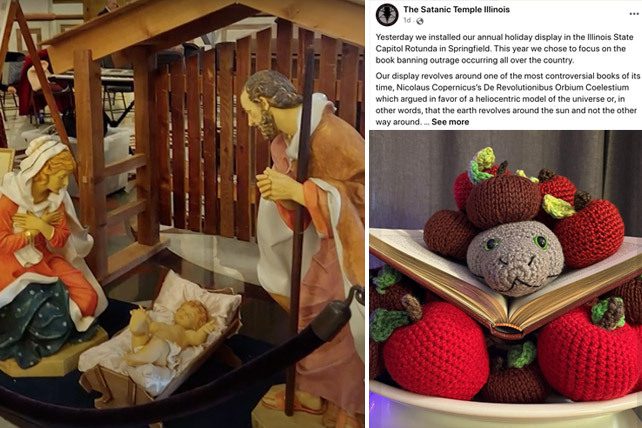 A controversial holiday display has returned to the State Capitol Rotunda in Springfield, Illinois. The Satanic Temple, a nontheistic group, is once again showcasing its values near more traditional displays such as a Christmas tree, nativity scene, and Jewish menorah.
This year's Satanic Temple exhibit features a crocheted snake, apples, and a once-banned astronomy book by Copernicus. Because the rotunda is designated as a free-speech area, previous displays by the Satanist organization are legally permitted. Last year its exhibit showcased a swaddled baby version of the deity Baphomet, and a December 2018 statue was dubbed Snaketivity.
RELATED: Co-Founder of Satanic Church in South Africa Leaves Satanism After Encountering Jesus
Satanic Temple Display Honors Sol Invictus Holiday
The December 25th holiday Sol Invictus, formerly designated to celebrate Roman gods, now honors "being unconquered by superstition and consistent in the pursuit and sharing of knowledge," notes the Satanic Temple website. The group says the Copernicus tome represents banned books and religious plurality.
A Satanic Temple Illinois leader who identifies himself as Minister Adam tells a local TV station, "The serpent of Genesis and the apples symbolizes that whole 'forbidden knowledge' sort of thing. The book, obviously, is one that was banned, but also something that is really important to remember, which is that Copernicus himself was not actually persecuted by the church. Instead, he worked in harmony with them. And we like to see that this is an affirmation of our Satanic values, by existing in harmony with other religions."
As a "nontheistic" group, The Satanic Temple says it doesn't believe in a literal Satan, worship Satan, or proselytize. Its controversial After School Satan Clubs "focus on free inquiry and rationalism," according to the group. "We prefer to give children an appreciation of the natural wonders surrounding them, not a fear of everlasting other-worldly horrors."
State Can't Censor Holiday Displays
The Illinois Secretary of State's office permits the holiday displays every December. A sign in the rotunda notes: "The State of Illinois is required by the First Amendment to allow temporary, public displays in the state capitol so long as these displays are not paid for by taxpayer dollars. Because the first floor of the Capitol Rotunda is a public place, state officials cannot legally censor the content or speech of displays."
Critics of The Satanic Temple displays include Catholic Bishop Thomas Paprocki, who has challenged and warned about the exhibits. "Christians look forward to eternal happiness with God in heaven," he says. "Those who worship Satan are doomed to suffer the pains of hell with the Evil One and his minions forever." Adding that people are "free to choose" their belief system, he says, "I pray for the conversion of sinners and their eternal salvation."