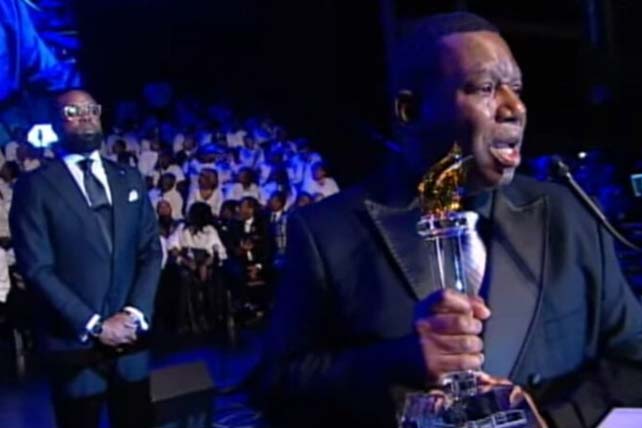 Standing in the pulpit on Sunday (Jan. 8) at the House of Hope, the home of Chicago's Salem Baptist Church, Meeks held a glass statue of a torch, which he was about to pass to the Rev. Charlie Dates, who would succeed him as leader of one of the city's largest churches.
Meeks tarried in prayer for a moment, every eye upon him.
"I'm almost afraid to hand you this because I know the burden that comes with this role," Meeks told Dates, warning him of sleepless nights and the temptations that come with power and authority.
"And Charlie, the only thing I can tell you is that God's word will hold you."
Then Meeks passed the torch to his successor and blessed him — and the church filled with the sound of applause.
Sunday's two-and-a-half-hour service was a tribute to Meeks' remarkable four decades as the church's pastor, which began on a frozen January morning in 1985, with temperatures at 20 below. That year, Meeks and more than 100 former members of Beth Eden Baptist Church, where he had been a pastor for several years, launched a new congregation in a rented building with the aspirational slogan, "The Greatest Church in the World," the Chicago Tribune once reported.
Meeks grew Salem to 15,000 members, with the congregation moving from that rented building to a former Catholic church in the West Pullman neighborhood on the far South Side and later to the 10,000-seat House of Hope, a massive worship center and arena.
Known for his passion for teaching the Bible, his evangelistic fervor — the church claims to have baptized 20,000 people during his tenure — and his passion for education and economic justice, Meeks has wielded spiritual and public influence in the city, serving for a decade as a state senator and running twice (unsuccessfully) for mayor.
During his tenure, the church helped shut down dozens of liquor stores, turning one into a Christian bookstore. The church has held funerals for victims of gun violence, promoted education, pushed for gun-control legislation and worked for the spiritual and economic thriving of its community. As a state senator, Meeks was most known for his efforts to improve funding for local schools.
Sunday's service reflected both spheres of influence. Meeks' longtime friend, the Rev. Jesse Jackson Sr., joined a host of other pastors in attendance — a number of former members of Salem who are now pastoring elsewhere stood on the stage. Politicians like U.S. Congresswoman Robin Kelley (D) were also in attendance at the service, which featured video greetings from megachurch pastors TD Jakes and Joel Osteen, as well as a word from Chicago Mayor Lori Lightfoot. The mayor praised Meeks for his role in the community and told worshippers not to worry about the pastoral transition at the church.