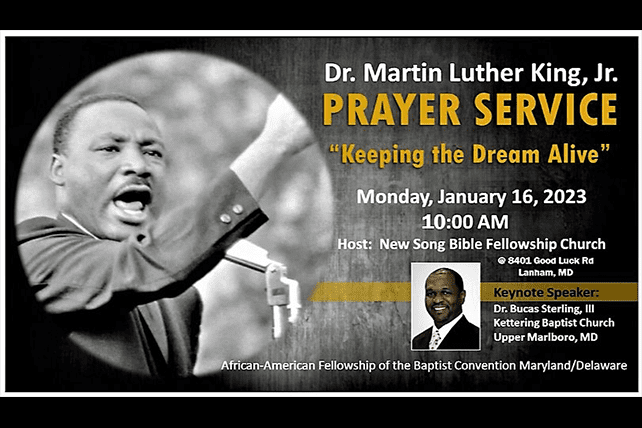 MANSFIELD, Texas (BP) – Bagpipes will resound at Bethlehem Baptist Church, the oldest African American church in Tarrant County, Texas, in an intentionally multiethnic celebration Jan. 15 marking Martin Luther King Day and calling Southern Baptists and others to cooperatively address societal ills.
The celebration is representative of many that Southern Baptist pastors and churches are hosting, participating in and financially supporting as the nation commemorates the birthday and work of the late civil rights icon.
"I think it's important for Southern Baptists to understand that the day commemorates, not just one man's attempt, but the attempt of Black Americans and all Americans who were sensitive to an unjust system of laws and violation of their civil rights to make sure that those freedoms were and are made available to all of the citizens of our country," said Michael Evans, senior pastor of Bethlehem Baptist Church in Mansfield, Texas, and mayor of the town of about 75,000 people.
"And by coming together we demonstrate a common bond and unity that should be expressed every day, not just on that day. That's what it ought to signify," Evans said. "This is not the deification of a human being. This is recognition of courage in a human being, the type of courage that we all ought to have when we see wrong and unrighteousness."
Unity is encouraged and modeled in Tennessee and Mississippi, where Michael Orr, senior pastor of Brown Missionary Baptist Church in the Memphis suburb of Southaven, Miss., is supporting a triad of community and church events.
"I would love for us to continue to be the catalyst in our community of bringing our community together, crossing racial lines, denominational lines, so that we can work together to really solve the issues and the problems of our day," said Orr, confirmed as a speaker at the 2023 Southern Baptist Convention Pastors' Conference in New Orleans in June. "I believe that what is needed now, it's going to take the whole community.
"Faith is the roundtable to bringing the community together to really solve our issues and problems. We're just excited and want to encourage even others to think outside the box on how do we really win souls to Christ, impact the Kingdom, as well as make a change in our community."
Brown Missionary is financially and physically supporting the Race for Reconciliation, a footrace in Memphis on Jan. 16; is donating to the Metropolitan Inter-faith Association, a humanitarian organization born after King's assassination in 1968; and is financially supporting a citywide celebration in Holly Springs, Miss., where Brown Missionary has planted Revive Church.
"We say all the time that ministry is partnership. So as we come together to work together with others in our city and in community," Orr said, "we believe that there is great strength and power in that unity, that we can actually make things happen. If we work in silos, it's only so much that we can accomplish. But if all of us are working together, and especially as we support each other in the particular areas that God has called us, it's just a win-win for everyone."
On the East Coast, the African American Fellowship of the Baptist Convention of Maryland/Delaware will focus on the ethnically diverse Baptist heritage of Southern Baptists, exemplified as early as the 18th Century in the missionary work of African American missionary George Liele.