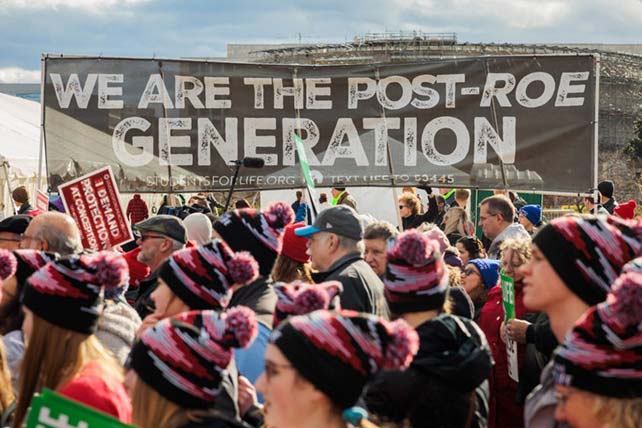 WASHINGTON (BP) – Thousands of pro-life Americans gathered Friday (Jan. 20) for the 50th annual March for Life to rejoice in a long-sought victory and to restate their commitment to protect preborn children and care for their mothers.
Initiated in 1974, the latest March for Life was the first to be held since the U.S. Supreme Court overruled in June of last year the Roe v. Wade decision. That 1973 ruling legalized abortion nationwide, ultimately resulting in the deaths of more than 60 million preborn children, and prompted the launch of the pro-life march a year later. The high court's June ruling returned abortion regulation to the states.
Brent Leatherwood, president of the Southern Baptist Ethics & Religious Liberty Commission (ERLC), and other staff members participated in the march and the rally that preceded it on the National Mall in Washington, D.C.
"This year's March for Life is one of both celebration and resolve," Leatherwood said in written comments for Baptist Press. "It is an extraordinary reality that at what we thought would be the 50-year mark of the disastrous Roe decision, we are gathered here today in a post-Roe world.
"It is right and good to take a moment to celebrate that our nation has taken this first step towards protecting life," he said. "But we know that more work remains.
"We will press on towards a day when both mothers and their children are fully valued as image-bearers of God. We are committed to establishing a true culture of life by developing innovative solutions and policies that actually serve mothers and help families flourish, and we will march until abortion is no more."
The march came two days before Sanctity of Human Life Sunday and the actual date of the Roe opinion, Jan. 22. It will be the 38th year for the observance on the SBC calendar, one many Southern Baptist churches commemorate.
RELATED: Survey: Post-Roe, White Evangelicals Remain Outliers on Abortion Laws
In celebrating Roe's reversal, March for Life President Jeanne Mancini expressed gratitude at Friday's rally to the marchers and to longtime pro-life advocates, including the late Nellie Gray, the march's founder. After Roe was reversed, the March for Life staff was often asked if the event would continue, Mancini said.
"[W]hile the march began as a response to Roe, we don't end as a response to Roe being overturned," said Mancini, March for Life's president. "Why? Because we're not yet done.
"While this year marks our most significant victory, the human rights abuse of abortion is far from over" she said. "We will continue to march until the human rights abuse of abortion is a thing of the past. We will march until abortion is unthinkable."
The theme of this year's march was "Next Steps: Marching Into a Post-Roe America." Speakers addressed the future efforts of the pro-life movement, including through legislation, adoption and maternity homes.
Mississippi Attorney General Lynn Fitch, whose defense of the state's ban on abortion after 15 weeks' gestation led to Roe's reversal, rejoiced in the Supreme Court decision and said, "But this is not the end of our journey.
"Until we can give women when they are most vulnerable what they need and what their children need to thrive, and until we can make changes in our laws that reflect our compassion for all life and until we can change hearts and minds in our fellow Americans, until then, life remains fragile and the embrace of human dignity remains aspirational," she said at the rally.