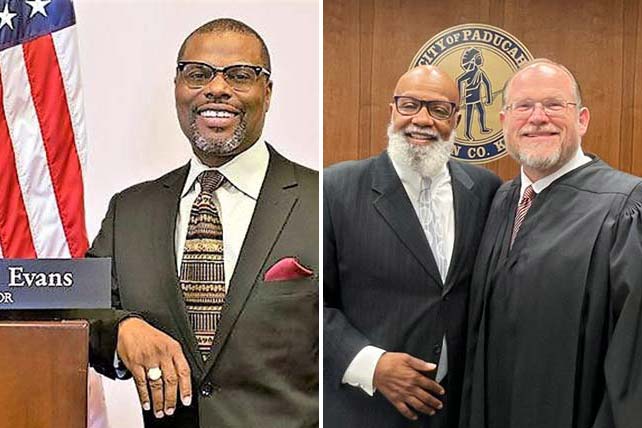 MANSFIELD, Texas (BP) – Mayor and pastor Michael Evans developed a heart for public service when he was 8 years old.
Early each morning, after his mother and great-grandmother boarded the bus to work, he had to prepare breakfast, get his 3-year-old sister Michelle on the bus to preschool and walk himself the two miles to class without getting in trouble along the way, as he told it to Baptist Press.
"My mother depended on me. I saw her cry too many times because of what we didn't have," said Evans, mayor of Mansfield, Texas, and senior pastor of Bethlehem Baptist Church there.
Paducah, Ky., City Commissioner Raynarldo Henderson, who has pastored Washington Street Missionary Baptist Church in Paducah for more than 30 years, was inspired for public service during his early adulthood in Chicago when the late Harold Washington was mayor.
"There were fights on the (City Council) floor. I remember one alderman … standing up on the table," Henderson told Baptist Press. "Those first four years for Harold Washington were rough. They gave him a hard time. And it was watching those city council meetings that it was like, 'Wow. I can be a solution. I can make a difference.'
RELATED: 'I Want To Serve God Well'—SBC President Bart Barber Discusses Politics, Sexual Abuse, Christian Nationalism With Anderson Cooper on 60 Minutes
"I was taught that if you see a problem, you be the solution."
Both Evans and Henderson are fulltime pastors who concurrently serve in elected office in the public square. Both see their pastorates and their elected governmental posts as godly callings. Both express the ability to uphold the laws of the land while also exhibiting godly behavior as the Lord's ambassadors.
"There are some people who think pastors shouldn't be in politics," Henderson said, "but obviously I think the exact opposite, because we do get an opportunity to impact" communities.
Evans, a Houston native elected to his second mayoral term in November 2022, came to the office after holding various public posts as early as 2007, including terms on the Mansfield Independent School District Board and the Tarrant County College District. He was a commissioned officer and reserve chaplain in the U.S. Navy from 1990-1998.
Evans, who eventually became the oldest of six children when his mother remarried, experienced both provision and lack during his childhood, he said. His birth parents divorced after his father returned from the Vietnam War.
"When you see people hurting and you encounter people who are hurting – and I was blessed to have grandparents on the maternal and paternal side that held us up while our parents were going through," Evans said, "so when you have those experiences, you say Lord help me to pay back, because I know that it's been given to me, so help me to give it back."
Bethlehem Baptist Church elected him pastor when he was 24 years old, when Mansfield was a rural community of just 15,000 residents.
"They helped me grow up here as a young man," he said of the congregation that averaged 1,200 in worship before the COVID-19 pandemic and draws 600 in worship today.